Extraction Sequel Or Prequel Is Possible At Netflix
Extraction hit Netflix this past weekend, and it has been a successful launch. Social media reactions have been quite favorable, the film has been in the top ten on Netflix every day, including taking the number one spot on Saturday and Sunday. Those who watched the movie also have really taken a shine to Chris Hemsworth's Extraction character Tyler Rake. As with any successful film these days, sequels and prequels are on the lips of everyone, and that includes director Sam Hargrave and producer Joe Russo. They had a chat with Collider about where either of those possibilities could go, including the relationship between Rake and David Harbour's character Gasper.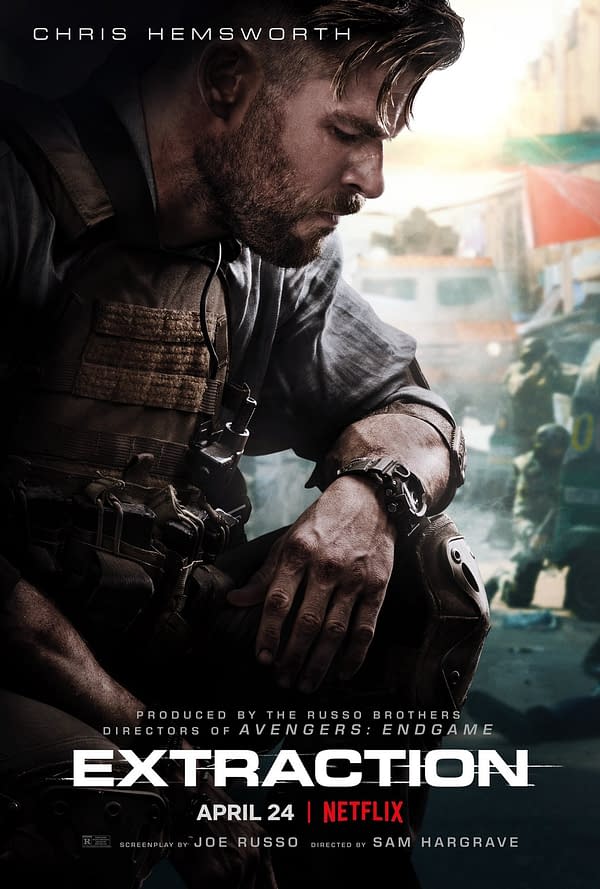 Extraction Sequels and Prequels Sound Exciting
In the interview, both Extraction director Sam Hargrave and Joe Russo tease all kinds of ideas for setting stories in this universe: "We discussed it and our backstory is that those two guys — and, spoiler alert, who knows whether there could be prequels or sequels could possibly go if Netflix likes the movie —but their backstory is these guys trained together and they spent a lot of time together in the military and even outside of that, in private military sector, and their skills would be matched but they just went in different directions."
"As soon as it got mentioned, that thought of a sequel — because, I guess, Netflix was enjoying the dailies and things were coming together and people were like, 'Oh, this could be…'. You know, you talk about all these things. Is it a franchise? Is it all these things? Who knows until the movie comes out and the audience responds."
For those that have watched the film, this is terrific news. Especially the prequel, I love the idea of exploring the backstory with Rake and Gasper. In fact, there is the title right there, Extraction: Rake and Gasper. There you go Netflix. For now, Extraction is now streaming on Netflix, and you should watch it.