Facebook Bans Group Responsible For 'Black Panther' Rotten Tomatoes Plan
Big victories over small minded bullies should be celebrated when they happen, and today Facebook stepped up to help.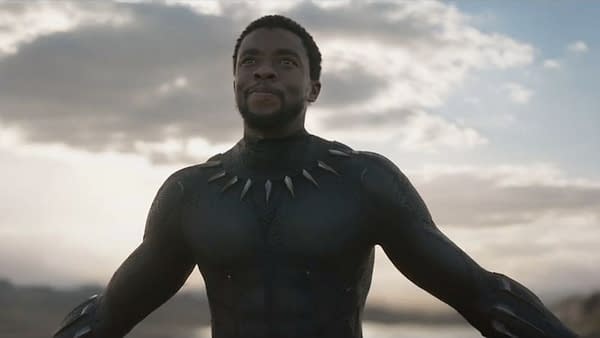 Maybe you'll recall the recent Rotten Tomatoes review bombing for Black Panther started by "Down With Disney's Treatment of Franchises and its Fanboys" facebook page and group, the same 'organization' that claims responsibility for Star Wars: The Last Jedi having such a low audience score on the review aggregate site.
If you aren't familiar, a crash course:
A group of self-labeled "DC Comics fans" decided they were unhappy with the less than awesome reception of Warner Brother's Justice League film, and decided to take it out on what they view as the franchise's main rival, Disney. Namely, the "Down with Disney" group decided (or so they claim) to use bots to fill the 'tomatometer' with negative reviews for both Thor: Ragnarok and The Last Jedi. After the 'success' of this 'attack', the group then turned their sights on the next Disney superhero film, Black Panther.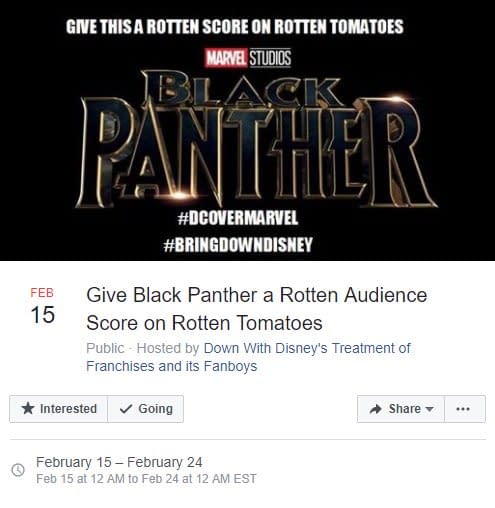 The event's description read:
"Given the massive success of the audience review rigging on the Rotten Tomatoes site for Star Wars: The Last Jedi, and due to the sudden rise in those disgruntled with Disney business practices among other factors especially due to the corporate manipulations which created falsified bad press for the DCEU, I feel that it's time to strike back at all those under Disney and bring down the house of mouse's actions for paying off the critics that hurt DC Comics on film and for other parties affected by them. I'll be making events like this for Infinity War and the Netflix shows etc so we can rally together to truly make a difference. Share this with your friends and all potential sympathizers."
It's no surprise that the choice to use the same tactics for Black Panther was announced/brought to light the day after the world premiere of the film, while Twitter and other social medias were filled with glowing reviews. The film is also already in a position to shatter previous box office records, at least according to Forbes, who says ticket sales are already above top earner Batman V Superman (seriously?).
While Facebook hasn't officially commented on their reasons for removing/shutting down both the group's page and the event, it's nice to know that maybe someone actually *is* paying attention to those "report" messages.