First Look at Spike Lee's BlacKkKlansman
While at Cinema Con last week we got a first look at BlacKkKlansman and the trailer begins with John David Washington, as officer Ron Stallworth, going on a racist and homophobic tirade to David Duke (Topher Grace) to earn his trust. The trailer ends with Duke standing before other members of the Ku Klux Klan and declaring "American first". The whole movie is looking to make fun of how ridiculous the situation was and while we don't have that trailer just yet Entertainment Weekly does have a first look image at the upcoming movie.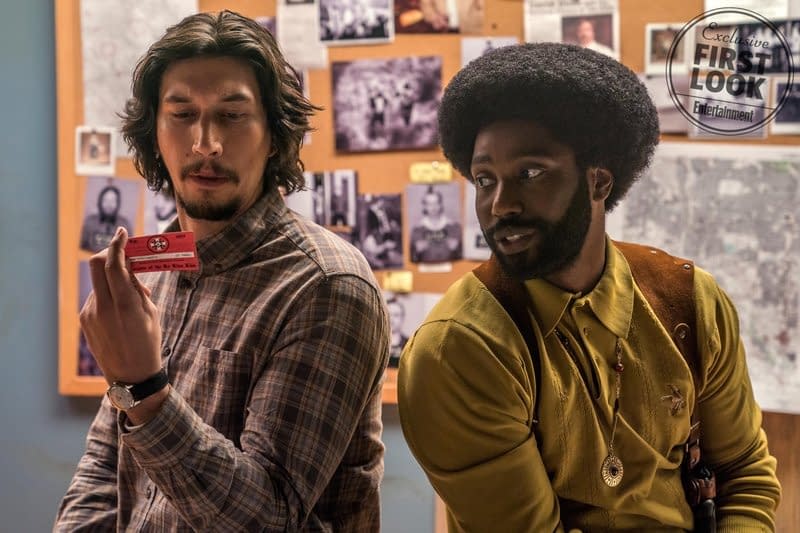 They have have an interview with Washington and he was asked about meeting the real Ron Stallworth while working on the role.
He's an amazing person. He's always about the job. It was never emotional for him. He never thought of it in that way of "taking down the man." He was [inspired] by the idea of no violent crimes or terrorist acts in Colorado Springs during his investigation, and he successfully accomplished that.
When asked about the "most outrageous" part of this story Washington revealed that the most outrageous part is that this story actually happened in a true "truth is often stranger than fiction" moment.
To me, the most outrageous part is that it's factual, that this happened. That's why it's so…everything in it, you'll see, how extreme and eye-opening and surprising the events that happened are, but…what tops it off [for] me, what makes it all come together, is that this really happened. This is American history. It's unbelievable that this story is true, and whether you connect with the film or not, to come into this information is still mind-blowing.
The little bit we've seen from Grace as David Duke in the trailer at Cinema Con was very good ans Washington goes on to praise Grace's performance and what a change this is fro Grace as a role. He usually plays "good guys" and this is about as opposite of a good guy as you can get.
Oh my goodness, what a performance. Topher and Corey [Hawkins as civil rights activist Stokely Carmichael], their characters kind of anchor or bookmark the history of this country in this film. We're talking about two opposite thinkers, but they give more truth to…or more of a realization of how dangerous this was and how true this story really is. … You know, it was bold on his part! I think that's the wow factor as a fan because I love his work too, and knowing the characters I'm used to seeing him play, and you see him in this and it's scary. You don't even think it's him at first! I told him that all the time. I'd say, "You're a bold man and you're delivering."
The other big name that Washington is acting against is Adam Driver who plays officer Flip Zimmerman. While Stallworth developed the relationship with Duke over the phone it was Zimmerman who had to go to the meetings in person.
He is the man. He's crazy talented, obviously, but his work ethic is what I admire the most. You can't lie when you're on set, you can't lie when you're in a scene with him because he'll draw it out. You'll feel, "Okay, that wasn't honest." He makes you be present and honest the entire time you're with him and he made it very easy, very natural to play off of him and I feel like it shows in the film. His character, he might even [be taking] more of a risk than Ron in so many ways.
We can hope the trailer, featuring all of the humor you would expect from a Spike Lee production looking at such a ridiculous situation, will be out soon.
Ron Stallworth, an African-American police officer from Colorado, successfully managed to infiltrate the local Ku Klux Klan and became the head of the local chapter.
BlacKkKlansman, directed by Spike Lee, by Adam Driver, John David Washington, Topher Grace, Laura Harrier, and Ryan Eggold. It will be released on August 10th.