The first trailer for the upcoming historical drama based on the royal rivalry between two Queens, Mary Queen of Scots, hit this morning, and we can already hear the emails being written.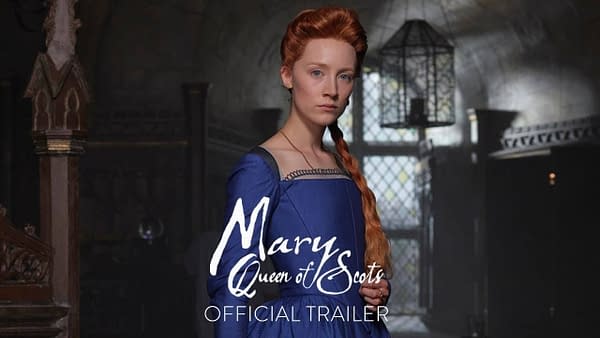 The film stars Oscar nominees Saoirse Ronan and Margot Robbie as Queen Mary and Queen Elizabeth I in a tale from the point of view of Mary Stuart.
Mary Queen of Scots explores the turbulent life of the charismatic Mary Stuart. Queen of France at 16 and widowed at 18, Mary defies pressure to remarry. Instead, she returns to her native Scotland to reclaim her rightful throne. But Scotland and England fall under the rule of the compelling Elizabeth 1.

Each young Queen beholds her "sister" in fear and fascination. Rivals in power and in love, and female regents in a masculine world, the two must decide how to play the game of marriage versus independence.

Determined to rule as much more than a figurehead, Mary asserts her claim to the English throne, threatening Elizabeth's sovereignty.
At least now, I understand the makeup choice on Robbie — it's to show age. We'll be seeing the passage of time with the two leaders of men from young ladies to the powerhouse monarchs that the world still talks about today.
Mary Queen of Scots is set to hit theaters on December 1st, 2018.
Enjoyed this article? Share it!