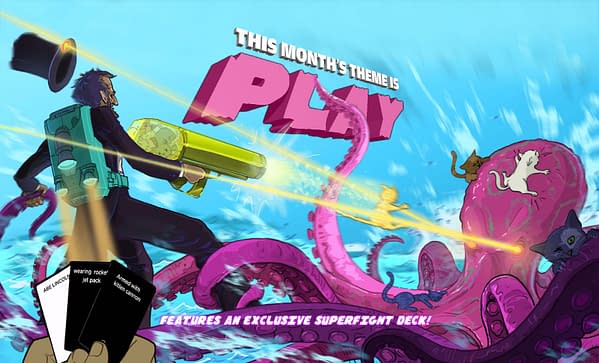 Five hours till the February deadline for ordering your Loot Crate this month. So what do you get? Let's see what we can work out from these three pieces of exuberant PR copy.
Honest Abe Lincoln with a Jetpack and Kitten Cannon vs. a Giant Octopus! It's the former President's birthday and he's here to protect us from the wrath of a freakish cephalopod!

You can experience this and 1,000s of other crazy battles with the Loot CrateExclusive Super Fight Deck that's included in February's PLAYCrate! Celebrating all the tabletop & video games we love to PLAY!
Super Fight Deck.
In addition to a Loot Crate Exclusive Super Fight Deck. This month's crate also includes an EPIC item you can put your own personal touches on. Even better, there is a contest! Enter a pic of your creation for a chance to win supercool prizes in a bunch of categories. Details coming soon, so don't miss out!
No idea.
February's crate is dedicated to all the awesome games we love to PLAY! We have put together a crate that celebrates the boundless levels of adventure, creativity and excitement that great game-play brings. Included will be a Loot Crate Exclusive Super Fight Deck, a vinyl collectible figure from KidRobot, a best-selling story much beloved by gamers & geeks worldwide, and so much more. Pull up a seat and let the games begin!
Vinyl figure! And a story. But what kind of story?
Doesn't sound like there's a comic… unless it's Munchkin or something. But there's lots of gaming content… what do you reckon, will you gamble $20? There's extra discount here if you use the code BLEEDINGCOOL
Or you can forego the discount and get these key rings with the following codes: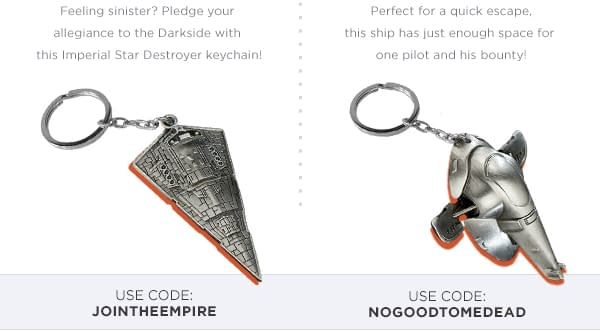 Enjoyed this article? Share it!