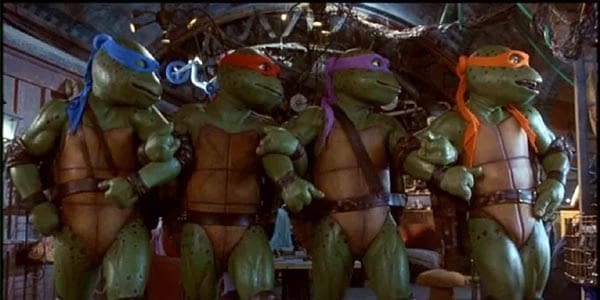 According to reports circulating on social media, former WWE star Alberto Del Rio was involved in a backstage brawl with with a wrestler named Alan Xtreme, who is known as Rafy in the luchadore group Las Turtugos Ninja. And yes, they are, exactly as it sounds, Ninja Turtles:
Well, it's better than Michael Bay's vision.
Anyway, Del Rio and girlfriend Paige were attending an IWRG wrestling event near Mexico City when a brawl broke out between Del Dio and Xtreme, according to a report from @luchablog on TwitLonger:
Alberto & Paige were at the IWRG show tonight in Arena Naucalpan (just outside of Mexico City.) There's photos of them at the show, and they were probably just there to watch Alberto's brother wrestle in the main event.

They went backstage during the show. While they were backstage, a local luchador named Alan Xtreme (aka Rafy of the Ninja Turtles) was nearby. Something happened – this part isn't clear, but something like Alberto thought Alan touched him, or thought he touched Paige – and the two started punching each other backstage. The brawl spilled to a hallway that connects locker room to the fan entrance way, so many fans saw the fight going by the time it was broken up. It was not a worked fight, Alan's face is said to be messed up from Alberto. I have no idea what happened to Alberto.

IWRG and the people reporting on the show have avoided mentioning it, but between the fans and the other wrestlers trying to figure out what happened, it's being discussed over on Facebook.
According to an update from Xtreme on Facebook (via Twitter), the whole thing was no big deal and everyone should just get over it, though that's the last thing we would personally say if we had been in a fight with a Ninja Turtle.
Tortuga Ninja Rafy update from his facebook page. He said Alberto & him had a fight, threw punches, he's okay. Move on. @luchablog pic.twitter.com/DVcOPobU6k

— Fredo Esparza (@therealfredo) December 12, 2016
Del Rio left WWE earlier this year and has been dating current WWE wrestler Paige, much to the chagrin of many internet smarks. Paige, who is currently out with an injury, has been suspended for violating WWE's wellness policy twice in the past several months, while her current storyline on weekly reality show Total Divas (filmed months ago) shows her spiraling out of control, missing events, and provoking the gossip of her fellow wrestlers by dating the older Del Rio. It's unclear whether the whole mess began as a work for Total Divas, but it's possible that Del Rio and Paige have worked themselves into a shoot, brother.
When accused on Twitter of knocking Xtreme unconscious at the event…
@VivaDelRio fue a la arena y golpeó a un luchador en los vestidores hoy dejándolo inconsciente @rudorivera @mas_lucha @luchalibreaaa

— lucifer estrella de la mañana (@vera_logan) December 12, 2016
…Del Rio responded by calling them ignorant and blocking them:
Y te voy a bloquear por ignorante https://t.co/FkYQuDyLAr

— Alberto El Patron (@PrideOfMexico) December 12, 2016
And he had a message for everyone else as well:
Good night marks pic.twitter.com/Ly93lQHr8H

— Alberto El Patron (@PrideOfMexico) December 12, 2016
Enjoyed this article? Share it!