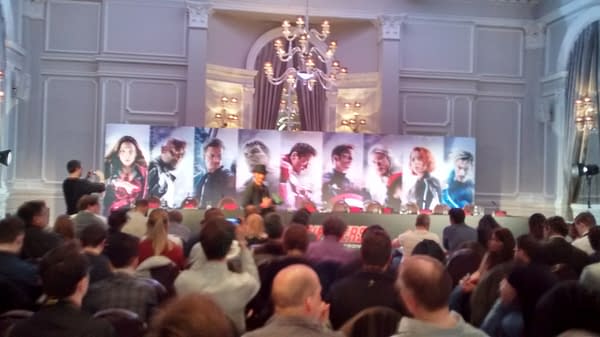 I wandered along to a rather swish hotel this afternoon near the Embankment in London on a gloriously hot summer's day. Why? It was the Avengers: Age Of Ultron press conference and they rolled everybody out.
Scarlett Johansson, Chris Hemsworth, Robert Downey Jr., Chris Evans, Aaron Taylor-Johnson, Elizabeth Olsen Jeremy Renner, Mark Ruffalo, Paul Bettany and Joss Whedon. Avengers Assembled.
The questions came thick and fast, starting with one journalist's ten year old son asking what they got most excited about starting a project like this.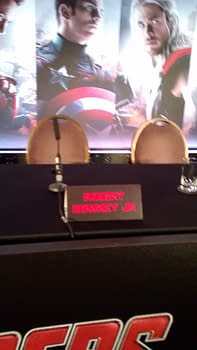 Elizabeth Olsen. I get most excited cooking and eating.
Jeremy Renner: Hanging out with these degenerates.
Mark Ruffalo: Coming back to the world, seeing where these crazy people are headed, into Joss's own twisted psyche.
Robert Downey Jr. My first costume fitting, surrounded by mirrors.
Chris Hemsworth: A family reunion
Elizabeth Olsen: Wait, I think I didn't understand the question
Scarlett Johansson: Watching you eat. I get most excited about reading Joss' script, all of the cover letters to the scripts are as good as the movie, delightful and self-deprecating.
Aaron Taylor-Johnson: Being part of this family.
Paul Bettany: Box office bonuses
Mark Ruffalo: You get box office bonuses?
Joss Whedon talked about wanting Ultron to be in the second movie before he'd started on the first. Something big, powerful, angry and made of metal. Joss really seemed to tap into how anger makes someone unhinged…
They were asked who was a hero or role model to them all.
Paul Bettany: John Lennon
Aaron Taylor-Johnson: Gary Oldman
Paul Bettany: And Gary Oldman
Scarlett Johansson: Patrick Swayze in Dirty Dancing
Chris Hemsworth: We can all agree with that. Taking it in a different way, my old man.
Robert Downey Jr: Peter O'Toole
Ruffallo: Gandhi
Robert Downey Jr: Ben Kingsley
Jeremy Renner :My old pop.
Elizabeth Olsen. Michelle Pfeiffer and Faye Donaway
Joss Whedon: Chris Evans' dad. Sure felt his presence.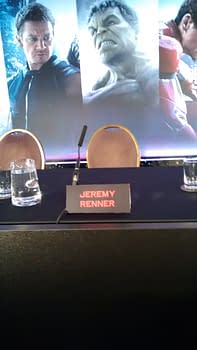 Scarlet Johannson was asked whether she found Black Widow an empowering character in a mostly-male universe. She joked that she just read the script to look for her character and ignored everyone else, but talked about how the character was based on something deep, grounded and real that she could hold onto. Someone who has experienced trauma and hasn't been able to make active choices for herself until now. And these kind of things are things actors can hold onto. "It keeps us involved and keeps our head straight, as an actor looking for something substantial rather than a female actor looking for something. Thanks Joss."
Elizabeth Olsen talked about how she was thrilled just to be part of the whole group and had been watching the films since the first Iron Man – cue a wide smug grin from Robert Downey Jr.
At which point Downey got up, announced it was fifteen minutes since his last wardrobe change, got a new jacket and sunglasses before sitting down again.
Joss Whedon was asked about his future plans and if they involved Marvel. He said that he can never get far away from it but "after my long rest, I plan a longer rest and possibly an eternal rest. I have no immediate plans, which is the best thing I've ever said."
Scarlet Johannson asked if she was pleased that this film gave her a meaty role, as opposed to being dismissed as the sexy one, and if she was angry about not having a sl film like the others.. She replied "The sexy one – have you seen Chris Hemsworth?" and talked about the heroic selfless choices of the character, But, givien that, "a Black Widow movie would be cool, I'll always happy to put the catsuit back on. From your lips to Marvel's big pocketed purse."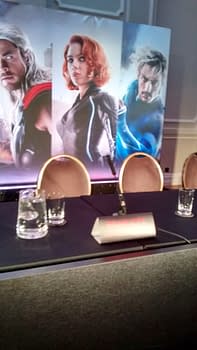 Each as asked apart from themselves, which character had the most interesting arc in the movie.
Robert Downey Jr.: Hawkeye has a heck of an arc. Obviously Paul had a very interesting turn, also with Quicksilver and Scarlet Witch, Paul, Lizzie and Aaron exceeded expectations, that's the big triumph of the film.
Chris Hemsworth: Scarlet Johannson and Mark Ruffallo.(Robert Downey objected). That it was nice seeing intimate moments amongst team of superheroes, you can see romance, especially within the group
Robert Downey: Nailed it.
Scarlet Johannson: I thought Joss's arc was really interesting.
Aaron Taylor-Johnson: I agree with Chris, I love to dive into Mark Ruffallo's beats
Paul Bettany: Hawkeye, was the heart of the movie. And he's fantastic in it.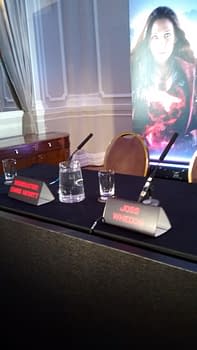 Mark Ruffallo: Hawkeye I found great as an actor often away from home fighting imaginary evil guys and the wife who's at home saying where the hell are you and why aren't you here?
Jeremy Renner: Hawkeye, I like them all, it's a huge testament to Joss to put all the characters who are interesting and flawed ona chess board, you need all these characters to make them make sense
Paul Bettany: You should have picked me because I picked you.
Joss was asked "is this what it's like on set?" and replied "No, some of them are paying attention."
Elizabeth Olsen: My favourite was the Black Widow, talking down the Hulk.
Joss was asked about restraints on the movie, when he types a sentence and that's a billion dollars – and how far he believes the superhero genre as to go.
Joss replied that "If I had a key that says a billion dollars, I would press it. I just try to write it, the restrictions can be frustrating but also useful in that the page is not so blank."
The thing he loves about Marvel comics, is that Kevin Feige approaches each movie as a completely different idea, a movie of a different genre that has superheroes in it, as long as he can stay alive it has legs. Joss believes that as long as someone who really cares is at the head, creating new versions of superheroes rather than sticking to a pattern, will see the movies go on and on.
Chris Hemsworth talked about in an action movie, there are less tangible moments to play off actors. And that everyone in the film has a very healthy imagination, they were all running around the back yard with a cape around their necks.
Joss replied "Chri,s you were the only one talking to a tennis ball. I know it comforts you but it's a little weird."
As to the future of the Hulk, Joss and Mark dared each other to say, with Mark chickening out saying "I can't say, I can't. It's too amazing."
Paul Bettany talked about his transformed experience, from in the early days of the film as J.A.R.V.I.S., turning up for two hours to explain the plot, got given a big bag of cash and went home, Now he's part of a team of "lovely, happy, well paid actors, a good environment to work in."
Mark Ruffallo asked about the big bags of cash and where he was getting it all from. And we went out merry ways into the London sunshine.
Oh and that Spider-Man post-credit scene? It is indeed a fake…
Enjoyed this article? Share it!