There are actors, and then there are ACTORS, Gary Oldman being one of these incredible performers who is finally getting recognition for his decades of his excellence in the craft. This awards season, for example, we've seen the Brit pick up lead actor accolades and statues for his most recent leading role as Winston Churchill in Darkest Hour. Just last night, Gary was presented his first SAG award win, after only his second nomination over *mumble* years.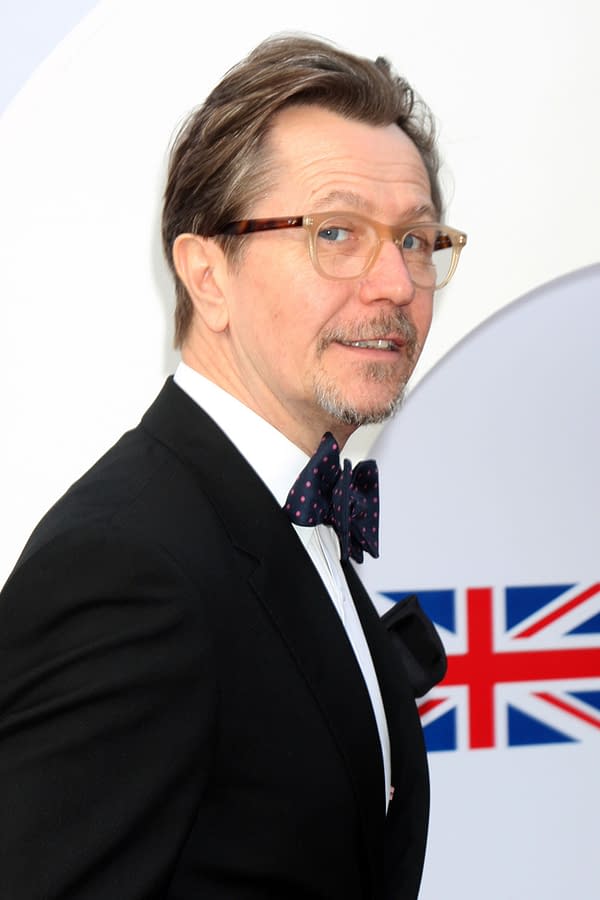 This brings us to the interesting exchange that happened yesterday during a segment on E! Red Carpet's coverage of the SAG Awards arrivals.
E! Red Carpet host Nina Parker asked Oldman about the amount of time he spent in the makeup chair being transformed into Churchill (which is amazing, btw) and it sort of went from there. The host asked if we'd be seeing Oldman in a different skin color (gray, green) sometime soon, possibly in a superhero film.
"Can we get you in Marvel?" she asks.
"Well, um, Marvel haven't called me, but now you've mentioned it. If they're tuning in–" Gary responded, before being interrupted.
Giselle Schmidt (Oldman's wife) chimed in, "You're not the only one who's asked. My son who's 9, he asks all the time."
"He wants me to be one of those, with a cape, flying around," Gary responded.
This of course started the mental process of who we'd like to see Gary play in a Marvel film. Ideally, though we know he plays some of the best baddies around (Leon: The Professional, Air Force One, 5th Element, Book of Eli), maybe not a villain.
Norman Osborn has been mentioned, as well as IF another Fantastic Four attempt happens, Reed Richards. Which would be even better, if Marvel were to listen to Oldman's Darkest Hour co-star Ben Mendelsohn, who has said he REALLY wants to play Doom. What a reunion that'd be, huh? (Having seen the pair of them interact in person, this would be the bestest idea, if it weren't for the persistent rumor that Mendelsohn is playing the bad guy in Captain Marvel.)
You can see the exchange here in the video as published by E! on their youtube channel:
And also Gary's emotional speech after winning last night:
Gary Oldman takes home the Actor® for Outstanding Performance by a Male Actor in a Leading Role! #sagawards 🎭 pic.twitter.com/Z1gFYx6UTG

— SAG Awards® (@SAGawards) January 22, 2018
Enjoyed this article? Share it!