Does Godzilla: King Of The Monsters Have Mid or Post Credit Scenes? Suitable For Kids? [SPOILER FREE]
So, I've just gotten out of seeing Godzilla: King Of The Monsters, in London's Leicester Square. Thankfully not yet decimated by a Leviathan. I took my youngest daughter (11) to see it, she had an afternoon sleep in preparation, as it was a bit of a late night for her. Still, it's not a school night and she has been very good.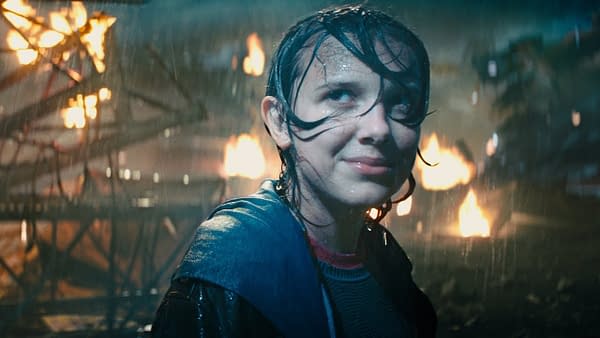 So first, was it suitable for her?
She tells me a resounding yes, but I'd better qualify that.
Lots of violence, but mostly of the fantasy cartoon variety. Lots of people use guns, some get shot by guns, but there's very little, if any, blood, people just fall down. There is actual violence depicted upon a variety of monsters, but the grossest scene is probably watching a pack of wolves feasting in their prey. And while there is a threat to the family, if you can make it through Finding Nemo, you are probably okay.
As to use of language in the film, expect the usual religious epithets, a few s-words along the way and a grand total of two f-words, once from an adult, once from a child and a couple of cases where it is clearly meant… but avoided. Par for the course these days. I'd say one of them is really earned.
As to whether the film is finished when the credits roll…
First, you get a roll of newspaper headlines that follow the end of the movie and suggest where a sequel may be headed and who, teased through the film but hardly seen, may be in it and where it will take place.
And yes, if you wait to the end, you get a definite idea about the sequel, what may occur and ties up one big hanging plot point to the film itself. So, yes, settle in, the credits and long and laborious but you don't want to be the person who left and missed a proper ending and a tease as to the next movie in the franchise.
Will be writing a proper review of Godzilla: King of the Monsters soon, keep an eye out for that.