There's some big news out of the Evening with Kevin Smith panel at San Diego Comic-Con tonight, and it's not just that Kevin Smith was awarded an Inkpot. Though, that did happen…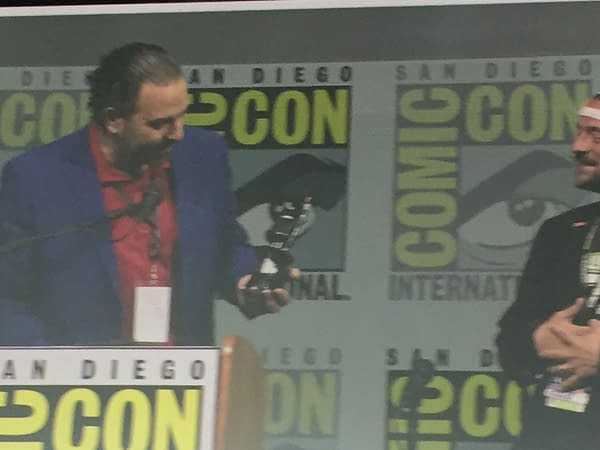 But Smith also dropped some news about Jay and Silent Bob Reboot, the upcoming sequel to Jay and Silent Bob Strike Back in which the titular Jay and Silent Bob go to Hollywood to stop a reboot of the Bluntman and Chronic film they were trying to stop in the first movie. The film will satirize Hollywood's reboot culture.
And also, according to Smith, it begins filming in November. On the set will be three actors from CW's The Flash: Grant Gustin, Tom Cavanagh, and Carlos Valdes. Kevin Smith has directed three episodes of the TV series, and he and Jay and Silent Bob co-star Jason Mewes have guest-starred on the show. It's unknown what roles the three actors will play, and whether those roles will be substantial, but we should learn more soon if the movie is filming later this year.
Bleeding Cool Ace Reporter Will Romine was on the scene at the panel to send us this news.
Enjoyed this article? Share it!