Halloween 40th Anniversary Convention Coming in October
Halloween fans are going to enjoy one heck of a year. Collectibles; the first new film in almost a decade starring Jamie Lee Curtis and directed by David Gordon Green; and in October, a 40th-anniversary convention!
Taking place October 12-14 in Pasadena, CA, the convention will celebrate the franchise on the eve of the new films release. Cast members, vendors, unique photo opportunities, and even a tour of the original films shooting locations will be taking place. Horror Hound and Trancas International Films will collaborate to put on the convention. Check out more details down below! See you there!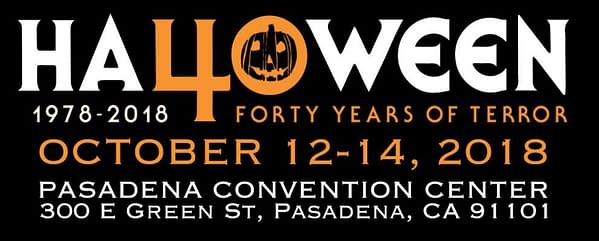 Every five years, since 2003, fans from the Halloween franchise travel across the globe to celebrate one of the most endearing, imposing, and enduring horror movie franchises of all time. John Carpenter's Halloween premiered in cinemas and on drive-in screens 40 years ago, changing the landscape of horror cinema forever. The movie served as the launching pad for a series of films that would go on to span ten entries to date – and this fall, the original Halloween stars Jamie Lee Curtis ("Laurie Strode", Nick Castle ("The Shape, Michael Myers"), and co-creator John Carpenter (the original film's director and composer), return to deliver the most terrifying sequel yet! To celebrate this storied 40-year old film franchise, this October 12-14th at the Pasadena Convention Center, the Halloween-based convention, H40: 40 Years of Terror is set to make waves in the convention industry.

For this special anniversary convention event, Trancas International Films is teaming up with HorrorHound Ltd., the promoters responsible for the mid-west event HorrorHoundWeekend, to deliver what will be the biggest Halloween convention to date. Celebrity guests (including directors, stars, and crew) from all eleven films are set to be in attendance as the H40 convention expands into a larger convention space than ever before. More space means more exciting vendors – including notable Halloween licensees – and a number of not-to-be missed events, such as a special Horror's Hallowed Grounds filming location tour, special gallery offerings, cast Q&As, exclusive H40 and merchandise offerings, and for the first time ever at the Halloween"Terror" event – professional photo opportunities (thanks to CPO).

Ticketing launch date and pricing information (as well as special VIP packages) are expected to be announced within the month. Not to mention exact guest attendee information, event and programming schedules and plans, and special surprises revolving around the upcoming film. Make sure you keep an eye on the official H40 Web site at www.Halloween40.com – plus as the official Facebook page at www.facebook.com/Halloween40.

Be sure to check out the official Web site for the upcoming Halloween film, which is set to hit theaters this October 19th (directed by David Gordon Green), by visiting www.HalloweenMovie.com. The official trailer for the film (which stars Jamie Lee Curtis, Judy Greer, Andi Matichak, and Will Patton) is now online.