Halloween Gets a New Very Johnny Cash-esque Poster
Halloween is returning to theaters this October, and today we got our first official look at Michael Myers himself, thanks to the teaser poster for the film. Feast your eyes on the new version of the Myers mask!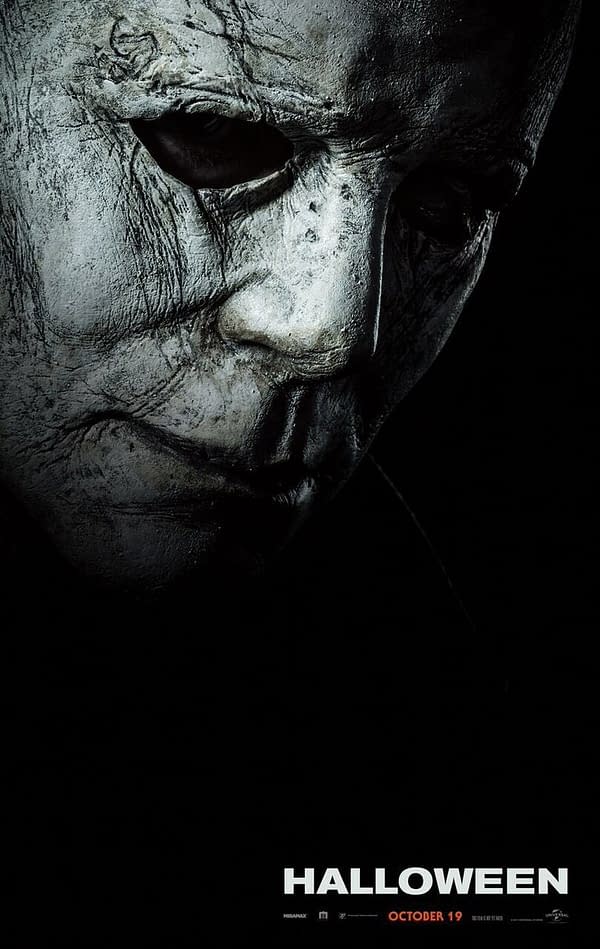 So much to unpack here. Is the film just titled Halloween? Is this supposed to look like the cover to the Johnny Cash album? Seriously — it looks like Michael is about to break out into his version of 'Hurt'. I love the old-school font and colors on the release date. I think the ever-so-slight peek at his eye is a great touch, and the mask looks incredible. Some fans are going to hate all of the aging and cracks formed on it, probably because it will remind them of the not-so-great Rob Zombie films. Here is your reminder, fans: this film takes place 40 years after the original.
Laurie Strode comes to her final confrontation with Michael Myers, the masked figure who has haunted her since she narrowly escaped his killing spree on Halloween night four decades ago. With them ignoring everything after the original, there are so many places this film can go. Very little is actually known about the story right now, we do know that Jamie Lee Curtis returns to her iconic role as Laurie Strode, and that her daughter is played by Judy Greer. Greer's daughter will be played by Andi Matichak. Also in the film are Miles Robbins, Dylan Arnold, Virginia Gardner, and Drew Scheid. Also retuning is the original Shape himself Nick Castle. The film is directed by David Gordon Green, and he also co-wrote the script with Danny McBride.
I hope we get at least a teaser trailer soon. Hearing that iconic John Carpenter theme… there is almost nothing like it. He is also back as a producer and providing the score. Here, look at this awesome pic from behind the scenes on the set of Halloween II, because it is amazing:
Halloween opens in theaters exactly six months from today, on October 19th.