Halloween Finally Unleashes Its First Trailer: Watch it Now!
Halloween is back. The film released its first trailer, and we now finally have a look at what we can expect from Michael Myers big return to the screen. He has been gone since 2009, and almost a decade later Blumhouse is taking a big swing to make us remember why Michael is synonymous with fear. Watch the trailer now below!
The film takes place 40 years after the events of that fateful Halloween night that Michael came home in 1978. Since then, Michael is now in an asylum. A British film crew decides to do a documentary on his exploits, and wouldn't you know it, he escapes. Getting ahold of his iconic mask, he makes a beeline for Haddonfield to finish the job. What he does not know is that Laurie (the returning Jamie Lee Curtis) has been prepping for this confrontation as well. The two will face off for what may or may not be the last time where it all began.
The film will ignore the, let's say problematic history of the franchise and its many sequels over the years. All that "counts" here is the original John Carpenter classic (he is back as well as an executive producer and is handling the film's score). Universal is handling the distribution, its first in the series since Halloween III: Season of the Witch, the only film in the franchise to not feature Michael Myers. The film is being directed by David Gordon Green, and is co-written by Danny McBride, Green, and Jeff Fradley. They have said all the right things up until this point, and with today's trailer release, they seemed to have backed it all up.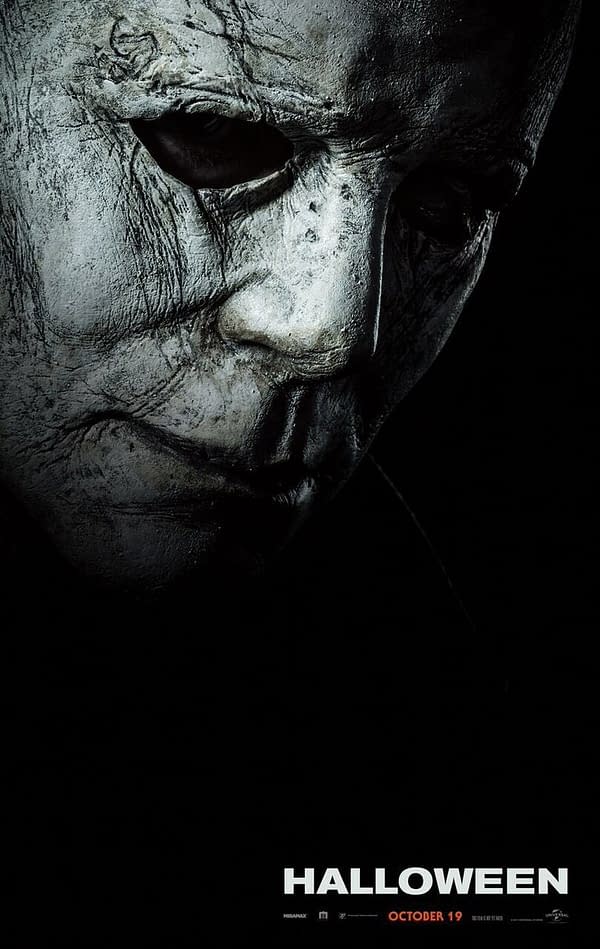 Halloween, starring Jamie Lee Curtis, Judy Greer, Andi Matichak, Virginia Gardner, Will Patton, Miles Robbins, Jefferson Hall, James Jude Courtney, and Nick Castle as The Shape hits theaters on October 19th.