Hell Fest Trailer: Slasher Fun at an Amusement Park!
Hell Fest debuted its red band trailer today. Three couples attend a horror-themed amusement park where a masked killer takes out his victims, all while attendees at the park are not sure if it is part of the act or not. Violence and mayhem ensues, and the killer has a pretty creepy mask that I am sure will visit me in my nightmares later on tonight. Check out the trailer below (NSFW at all):
A masked serial killer turns a horror themed amusement park into his own personal playground, terrorizing a group of friends while the rest of the patrons believe that it is all part of the show.

College student NATALIE (Forsyth) is visiting her childhood best friend BROOKE (Edwards) and her roommate TAYLOR (Taylor-Klaus). If it was any other time of year these three and their boyfriends might be heading to a concert or bar, but it is Halloween which means that like everyone else they will be bound for HELL FEST – a sprawling labyrinth of rides, games, and mazes that travels the country and happens to be in town. Every year thousands follow Hell Fest to experience fear at the ghoulish carnival of nightmares.

But for one visitor, Hell Fest is not the attraction – it is a hunting ground. An opportunity to slay in plain view of a gawking audience, too caught up in the terrifyingly fun atmosphere to recognize the horrific reality playing out before their eyes. As the body count and frenzied excitement of the crowds continues to rise, he turns his masked face to NATALIE, BROOKE, TAYLOR and their boyfriends who will fight to survive the night.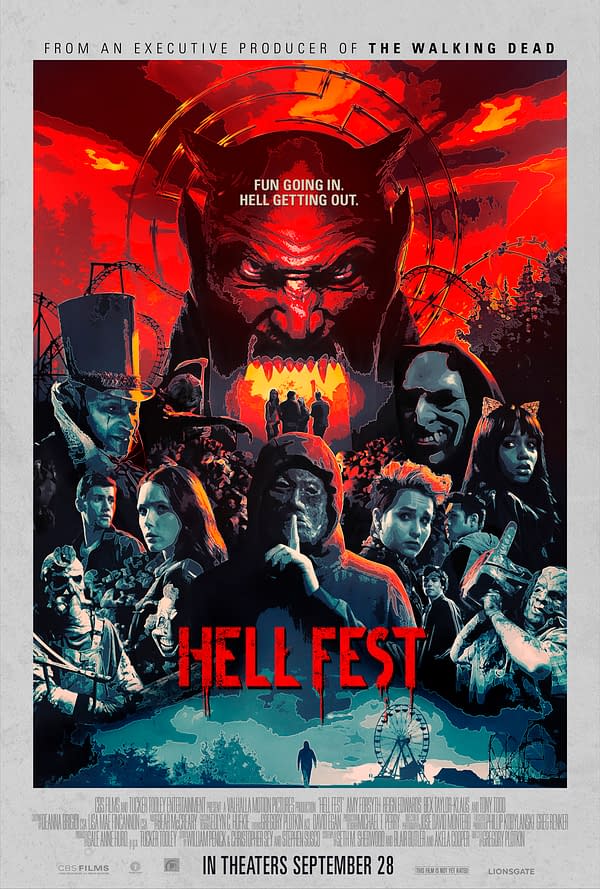 Horror icon Tony Todd makes an appearance in the film, alongside Reign Edwards, Bex Taylor-Klaus, Christian James, Robby Attal, and Matt Mercurio.
Hell Fest opens on Spetember 28th.