Image of Timothée Chalamet From Dune Debuts, More Tomorrow
Dune images have finally started to be revealed. This December's version of the film, directed by Denis Villeneuve, has not seen a ton released yet, but it looks like the floodgates are going to open now. Vanity Fair, much like they have for the Star Wars prequels and sequels, debuted an image of Timothée Chalamet as Paul Atreides from the film this morning. Another article looking at Dune will hit the site tomorrow as well, diving even deeper into the highly anticipated adaptation of the Frank Herbert 1965 classic. You can see the image below.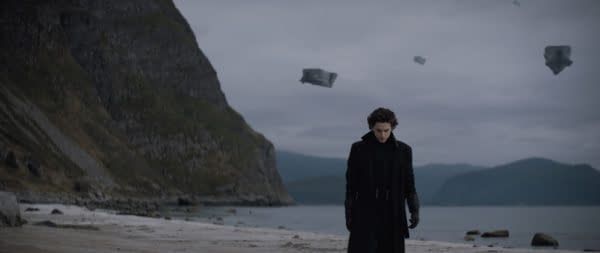 Dune is a Story of Detail and Scale
Dune is one of those special properties in the world that many feel a close kinship with. In talking with VF about the film, Chalamet says he was drawn to the project because it was more of an anti-hero story for his character. On top of that, the amount of wold-building and attention to detail and scale involved impress him. You can feel the excitement when you read the quotes.
"The immediately appealing thing about Paul was the fact that in a story of such detail and scale and world-building, the protagonist is on an anti-hero's-journey of sorts," Chalamet said. "He thinks he's going to be sort of a young general studying his father and his leadership of a fighting force before he comes of age, hopefully a decade later, or something like that."
A Classic Being Discovered For the First Time
Look, I have never read Dune. I always meant to, I have purchased it many times over and never even cracked the cover. Nor have I seen the original film by David Lynch. I will not pretend as I do not wish to insult the dedicated fans of this property. But going into this film blind is do exciting. I am going to hold off on reading the novel or watching the Lynch film until after I see this new version of Dune. Villeneuve is one of my favorite filmmakers, and this could be his shot to become immortal. I want to see his vision for the material first. Dune opens on December 18th.