After what felt like years of effort to create a connected universe in the DC realm, things are beginning to quickly shift with a lot of uncertainty about the future. With the recent statement from Joe Manganiello about his almost-role as Deathstroke, Jesse Eisenberg becomes the newest actor to express that a return to DC is unlikely at this moment.
After two appearances, Jesse Eisenberg's time as the infamous villain Lex Luthor was seeming one of DC's recurring foes, but after the reception for Justice League, a transitional period began to switch their cinematic plans. Because of the scrapped Justice League 2 or postponed follow up to Man of Steel, it left  Eisenberg's character in limbo for future films. Now, during a recent press junket for Eisenberg's Zombieland: Double Tap, the actor was asked about his role in the DC universe and his confidence didn't seem very high.
Eisenberg was interviewed with Woody Harrelson, who is also slated to return to a superhero film (via Sony's Venom) as Carnage, so the inquiry was about their next involvement in the genre. Eisenberg jokingly addressed his knowledge of the situation to ComicBookMovie, explaining:
Different venues. I will say, quite confidently, different venues. His will be, like, kind of a movie that people go to and mine will be in my living room that people occasionally go to but mostly one at a time.
Eisenberg continued to make light of the situation, but his quick answer definitely implies that there are no current plans for him to return, nor does he expect to. At the end of Justice League, his character made a cameo alongside Manganiello who debuted as Slade Wilson (Deathstroke) and the idea of forming a villainous "league of their own."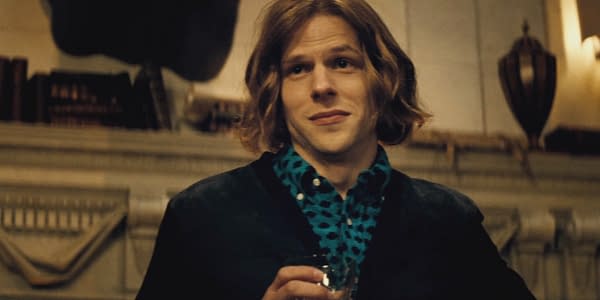 There's always such opinionated discussions around what people feel went wrong with Justice League, however the ambition it had in creating venues for several characters was a promising doorway to more. I'm almost certain that it's only a matter of time before we see villains like Luthor or Deathstroke return to DC's new extended universe, but if they go the Joker route, I suppose we really will have to give up hope for a more interwoven narrative.
What are your thoughts on the several actors suggesting their departure with DC?
Enjoyed this article? Share it!