Lionsgate Shifts John Wick 4, Spiral, Hitman's Wife's Bodyguard Dates
Lionsgate has shifted a bunch of release dates this afternoon. John Wick 4, initially scheduled for May 21st, 2021, will more a full year back to May 27th, 2022. Spiral, a SAW spin-off film, was supposed to release on May 15th in two weeks, and will instead release on John Wick 4's old date of May 21st, 2021. That means it opens against another Keanu Reeves film, The Matrix 4. Ryan Reynolds– Samuel L. Jackson sequel Hitman's Wife's Bodyguard moves from August 28th, 2020 to August 20th, 2021. Other pics moving dates from the studio include Kristen Wiig comedy Barb and Star Go to Vista Del Mar from July 2020 to July 2021, Martin Campbell's The Asset to April 2021, and Hilary Swank thriller Fatale to October 30th, 2020. John Wick 4 is the only film that moved to 2022. Deadline had the news.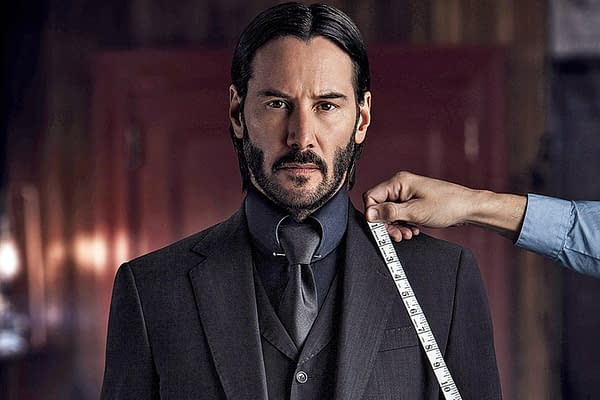 John Wick 4 Is Ok, Spiral Push Brutal
John Wick 4 had not started shooting yet, so that means they can get a fresh start. Unfortunately, Spiral is not in the same boat. While it may not matter when it comes out, the film has already released promotional material and debuted its trailer. Awareness and anticipation were high for the SAW universe film, starring Chris Rock. They posted the following message on their official Twitter:: "To Our fans- It pains us to inform you that the release date for Spiral is moving to May 21st, 2021. We understand and share your disappointment. We appreciate your continued support and hope you stay safe during this difficult time. Additionally, if anyone has seen the Billy puppet, can you please let us know? He hasn't shown up to our video meetings in awhile." Some thought Spiral would go the Trolls World Tour route and god to VOD, but Lionsgate apparently has lots of faith in it.
John Wick 4 is set to go in front of cameras when it is safe to do so again.