A new trailer for Jordan Peele's highly anticipated new horror film Us debuted this afternoon ahead of the Super Bowl. The follow-up to Get Out, this film looks completely terrifying. He has said in interviews as of late that he was a touch sad about how Get Out wasn't considered by most to be a genre film, and he definitely leaves no doubt with this one by the look of it.
Check it out below:
A mother (Academy Award winner Lupita Nyong'o from 12 Years A Slave, Star Wars: The Last Jedi, Black Panther) and a father (Winston Duke from Black Panther) take their kids to their beach house expecting to unplug and unwind with friends (including Emmy winner Elizabeth Moss from TV series The Handmaid's Tale). But as night descends, their serenity turns to tension and chaos when some shocking visitors arrive uninvited.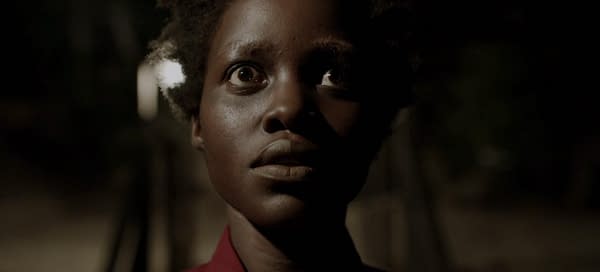 Written and directed by Jordan Peele, Us stars Lupita Nyong'o, Winston Duke, Elizabeth Moss, Tim Heidecker, Yahya Abdul-Mateen II, Anna Diop, Shahadi Wright Joseph, Evan Alex, Madison Curry, Cali Sheldon, and Noelle Sheldon opens on March 22nd, 2019.
Enjoyed this article? Share it!