Jurassic World: Dominion Adds Campbell Scott As Dodgson
Jurassic World: Dominion is ramping back up production, and part of that is making additions to the cast. One such addition is Campbell Scott. What is interesting to Jurassic fans is who he will be playing. One of the most iconic characters from the original Jurassic Park film for all the wrong reasons, Scott will be plying Dodgson, the man in the red shirt who passes Dennis Nedry (Wayne Knight) the shaving cream can to house the DNA vials near the beginning of the film. In that original Jurassic Park film, he was played by Cameron Thor. That actor is now a convicted sex offender, so he has obviously been recast. In case you don't remember the scene, which has been memed to death, check it out below. Collider had the exclusive on this.
Jurassic World Continues Going To The Well
The Jurassic World films have brought back many of the actors from the original film series to play small roles, including BD Wong, Jeff Goldblum, and in this film Laura Dern, and Sam Neill. One can also argue that the scripts, by Colin Trevorrow and Derek Connolly have "borrowed" heavily from Jurassic Park and The Lost World. This third film should be uncharted territory with dinosaurs living among us. Jurassic World: Dominion is co-written this time by Trevorrow and Emily Carmichael.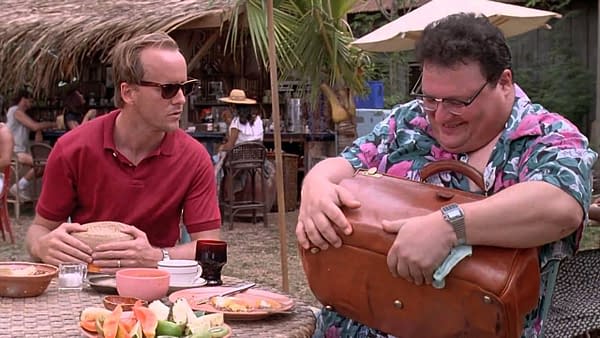 Maybe Dodgson will end up being the big bad of the film. Maybe he is who Wong's Henry Wu answers to. He has seemed extra shady in the last two Jurassic World films, so that would make sense. I do wish these films had less thematically in common with the original trilogy, hopefully, that is what happens with the third one when it releases in 2021.