Key Collector Comics is an app that helps comic book collectors keep track of key issues of comic books and variant covers and see the price range they typically sell for. Though the app is free, it does offer a subscription tier which sends out notifications that aim to help collectors target issues that could soon increase in value… like, for instance, if the comic features a character who is soon to appear in movie.
Though the Key Collector Comics app is certainly not an official source of movie announcements, it's worth noting that, a few weeks back, the app sent out a notification claiming that Ax would be the villain in Sony's upcoming adaptation of Valiant Comics' Bloodshot. Yesterday, the news broke that Toby Kebbell will indeed play Ax in the movie, alongside star Vin Diesel as the titular circle-chested hero.
So, it might be worth taking note of the fact that an alert from the app Wednesday claims that Sony will announce a Faith movie next. The app noted that Faith's first appearance was in Harbinger #1, though a more economical choice for the budget-minded collector would be to pick up the first issue of Faith's solo series.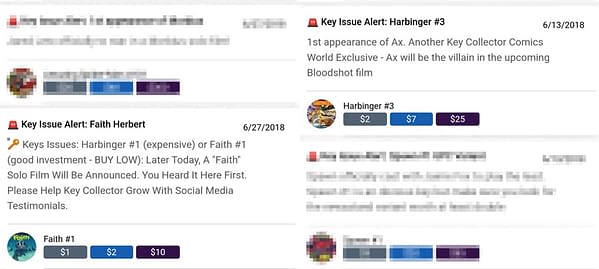 We reached out to Valiant for comment, but as of press time had not yet received a response. We also reached out to Nick Coglianese, the creator of the Key Collector Comics app, who told us:
The app is free but if you really want to stay in top of your game as a collector, subscribe. For what equals out to about a nickel per day or half the price of a comic book per month, collectors can unlock

1. Hot Keys – Comics that are trending due to movie announcements or something happening in the comic world.

2. The Spec Deck – comic speculation so for Faith her key issue villains would be:

Signey Pierce, 1st app in Faith volume 1 issue 2.
Chris Chriswell 1st app Faith volume 2 issue 1.
Murder Mouse 1st app Faith volume 2 issue 3.
Darkstar 1st app Faith volume 2 issue 5.

3. Dollar Bin Dive – this gives a hit list of what Comics to look for in your collection or at a shop that are valuable but often overlooked because they're so obscure

Subscribers also get Key Issue alert push notifications when something happens or is about to happen in the comic world that will affect the value of an issue so they can quickly act on it before anyone else.

We also have subscriber specific offers and giveaways. For giveaways now we have an Alex Ross Batman #50 variant and coming soon a Batman #50 Neal Adams virgin variant

I think they'll probably start to fully integrate the whole Harbinger team so we might not see them but there's plenty of Marvel and DC spec in that category.
The Key Collector Comics app is available on Android and iOS. Find out more here.
Enjoyed this article? Share it!