We're in the homestretch with season 4 of Amazon Studio's Mozart In The Jungle guys! We don't actually mean to make that sound like it's a chore- this series has been one of my personal favorites since the first episode appeared on the streaming service.
Season 4 of Mozart In The Jungle has brought in some new faces, and introduced brilliant performances and beautiful moments for our favorite characters.
In s4e7, Hailey (Lola Kirke) finally competed in her conductor's contest in Japan, and ultimately lost. Rodrigo (Gael Garcia Bernal) did KIND of perform Mozart's Requiem for Mr. Fukumoto (Masi Oka), but did not play the robot-finished piece as instructed to do at the behest of Gloria (Bernadette Peters). Thomas (Malcolm McDowell) and Betty (Debra Monk), tired of Gloria's leadership, started to lure Fukumoto away from the NY Orchestra as a sponsor, and instead interest him in funding Thomas's Queens Phil.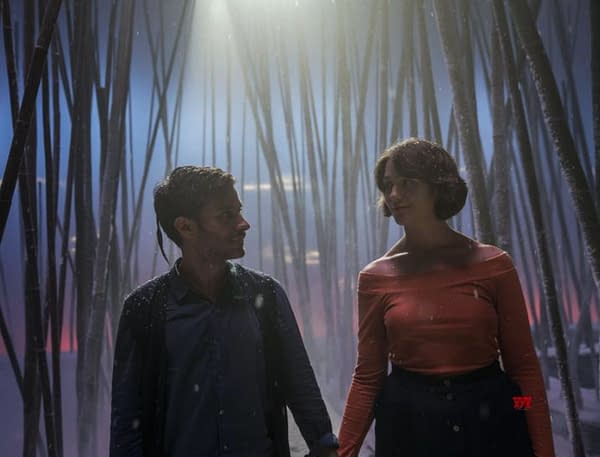 In s4e8 "Ichi Go Ichi E":
Hailey is the worse for wear after her self imposed whisky binge following her loss at the competition and subsequent disappearance for a night.
Rodrigo is taking Hailey to do a tea ceremony, and it feels like these are not the same people they were an episode ago
An interpreter walks the two through the first steps in the ceremony, washing their hands and mouths to purify the mind and soul
For a show built around the hustle and bustle of New York and the orchestra, this beautifully silent and reflective scene is the opposite of what we've known before
Rodrigo consumes the first bowl of tea, and is immediately transported into another world
He starts to see another Hailey, one who says she is only the Hai-lay in his mind.
He sees himself, and the two have a conversation about what he really wants.
Thomas is there too, "Comfort, that's the worst thing an artist can feel."
The Thomas hallucination says to Rodrigo to find out what Hailey really wants, namely- motherhood
Hailey drinks next, and is transported to the other realm's bamboo forest too. Instead of the gentleness of Rodrigo's vision, hers is angry and righteous. "It's MY time, time for me."
Lizzy appears, and asks Hailey the same question. "What is it that you want?"
Annamaria appears too, to Hailey, and tells her that she's not crazy enough for Rodrigo and will never be what he needs or wants.
Hailey returns to the present, and she and Rodrigo examine the tea container together, endless hills and valleys
The pair then walk through the bamboo together, her bare feet and his mismatched socks (I would love to know if that was Gael's choice or by design) in the sand. They share another beautiful moment, but one tinged with fearful anticipation- you kind of knew what was coming
They return to the present, and each says they need to say something important to the other. They count to three, and in the same breath that Rodrigo says he wants to have a family with Hailey, she tells him it's time for them to break up.
The interpreter informs them the last comment from the tea server, "I'm sorry if anything wasn't perfect"
Hailey turns to Rodrigo with tears in her eyes and says "I'm sorry"
The episode ends with the pair going along separate paths through the garden, and the flashing of Ichi Go Ichi E kanji.
I'm angry. It was so beautiful and I'm so angry. I want, need, these characters to be together and I can't disagree with this choice from a writing standpoint. But my heart hurts now and DAMNIT.
With only two episodes left and an uncertain future for the series, I can only hope Mozart In The Jungle ends as beautifully as it began.
Enjoyed this article? Share it!