Labyrinth Gets An Awesome New Poster From Mondo Tomorrow
Labyrinth, the beloved David Bowie film from the 1980s, will receive the Mondo treatment tomorrow. Available on The Drop tomorrow will be a new poster by artist Julian Totino Tedesco. The poster features David Bowie's iconic Jareth front and center, with all kinds of nods to the film surrounding him in the background. This one is limited to only 225 pieces and will cost you $60. They have also partnered with Chronicle Collectibles to provide a variant colorway of this Labyrinth poster to purchasers of their Jareth on his throne statue. That can be viewed here. That variant is limited to 100. Check out the poster below.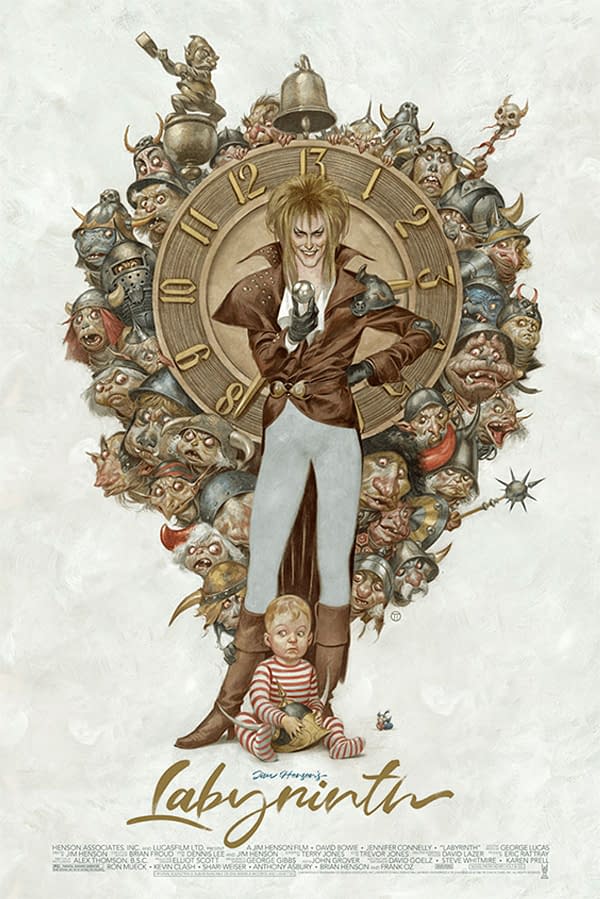 Mondo Labyrinth Poster and Pins
"Tomorrow we have a fantastic new poster for Jim Henson's 1986 classic, LABYRINTH, by Argentine artist Julian Totino Tedesco. Julian is one of our favorite artists in comics. We've followed his work for some time, and are excited to have been able to finally work together on this poster. With David Bowie's iconic Jareth front and center as the one true king of the goblins, there's a beautiful storybook quality to it that we love, and hope you do too.
There's also some other fun news to share. We've partnered up with our friends over at Chronicle Collectibles, and they'll be offering an exclusive variant colorway of this poster, available only to the first one hundred orders of their unbelievable Jareth statue. So, if you're one of the lucky folks who ordered one, you'll have a variant version of this poster coming your way as well."
Julian had this to say about creating the artwork for this poster: "I was never drawn to goblins, wizards, mazes, and that specific type of fantasy, honestly, but I've always loved Labyrinth and I'm sure David Bowie has a lot to do with it. When sketching ideas for the poster, I aimed for something more conceptual or "modern" in terms of approach and design, but I quickly realized that these sketches were not in line with the spirit of the movie. In the end, I embraced a classic approach and had fun with those beautiful Henson's creatures and, of course, took the chance to display Bowie – the magnificent Goblin King- big in the middle, displaying all his glory."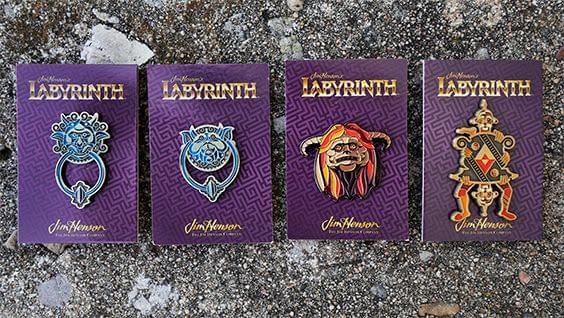 Also available are four new enamel pins featuring Ludo, The Doorknockers, and guards. These are designed by DKNG Studio and win run you $10 a piece. All of this Labyrinth goodness will be available on Mondo's sub-site The Drop tomorrow at Noon EST. Like always, if you want a shot, be prepared and be fast.