LeBron James May Reboot Friday the 13th Film Franchise
With horror films on the rise again in the wake of box office successes such as Halloween and It, it was inevitable that we'd be hearing about a Friday the 13th reboot eventually, and here we are, with a surprise twist: according to Bloody Disgusting, LeBron James and his Springhill Entertainment production and development company are in talks to reboot and produce the fabled horror film franchise. Springhill, co-founded by James and business partner and manager Maverick Carter, signed a tv, film, and digital content deal with Warner Bros in 2016. The production company already has Space Jam 2 in the pipeline with Ryan Coogler (Black Panther, Creed) on board as producer.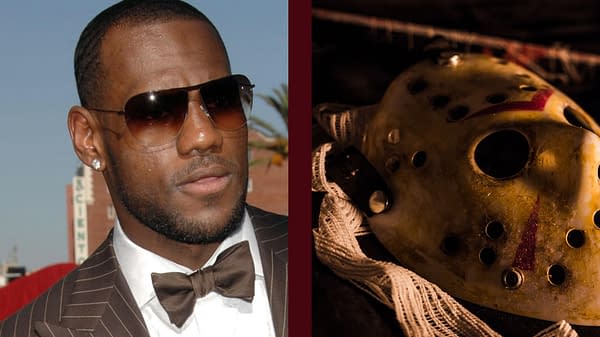 The timing of the reported talks are interesting, as Friday the 13th Screenwriter Victor Miller has recently successfully reclaimed the copyright for the screenplay for the film, though an appeal is pending. U.S. District Judge Stefan R. Underhill concluded:
I hold that Miller did not prepare the screenplay as a work for hire and that Miller's Second Termination Notice validly terminated Horror's rights to the copyright in the screenplay to Friday the 13th. Horror's and Manny's remaining state law claims all depend on Miller having written the screenplay as a work for hire, and can therefore be dismissed as a matter of law. I therefore GRANT Miller's motion for summary judgment, and DENY Horror's and Manny's motion for partial summary judgment. Miller is declared the sole owner of the copyright in the screenplay to Friday the 13th, effective as of the effective date of his second termination notice. Miller's motion for consideration of extra evidence is DENIED as moot. The clerk shall enter judgment and close this case.
While the fallout from that September 28, 2018 ruling still seems somewhat unclear — Judge Underhill's ruling also notes that the concept of using a mask, among other elements, was the idea of director Sean Cunningham — it's possible that this LeBron James rumor is a sign that details have been worked out to the extent that the film franchise may be moving forward again.
As Bloody Disgusting also notes, LeBron James appears to be a rather dedicated Friday the 13th fan. He's taken an Instagram selfie while wearing a hockey mask, with the accompanying text saying "Riding around masked up! Hahaha. S/O Jason Voorhees." — and that was in February 2013, not around Halloween, which certainly implies he's a serious fan (and it's interesting to recall that James went onto have a historic statistical month that February).
LeBron's Nike shoe line also included a Friday the 13th design in 2015.
Frankly, as a horror film fan, knowing that he's a serious fan himself along with his ability to recruit superstars like Ryan Coogler to his film projects has me feeling pretty good about the future prospects of the franchise, should this rumor be born out.
But as a basketball fan, the news adds a touch of drama to the NBA as the season gets underway. Still widely considered the League's best player, it was considered a given that moving to Los Angeles and joining the Lakers was part of James' plans to move into the film and other content creation space. But this rumor will stoke Laker fans' concerns that such media projects might become a distraction for James during the NBA season.
I think this will be a net plus for the Lakers, however — it demonstrates that LeBron James is unlikely to leave the Los Angeles area anytime soon, and might actually become a recruiting tool for other star players looking to follow a similar path.