Legendary Pictures is actively developing a new feature film based on The Toxic Avenger, proving that they're totally willing to take risks on…stranger titles.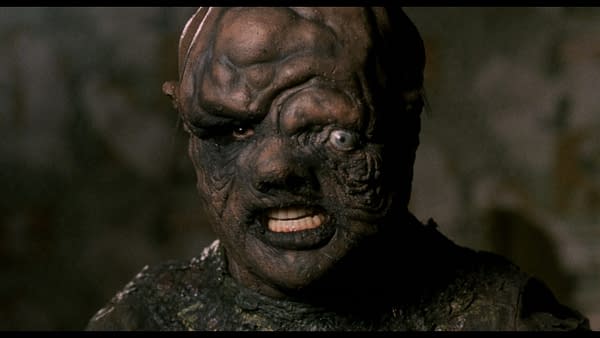 Legendary recently acquired the film rights for the property, and according to Variety, Lloyd Kaufman and Michael Herz of Troma Entertainment will serve as producers, with Alex Garcia and Jay Ashenfelter overseeing for Legendary.
Don't get your hopes up for a true TROMA reunion, Kaufman continues to refute rumors that James Gunn is working on the film, like he did back in May.
We don't know much about what the company is planning, but we're semi-interested, especially with the upcoming Godzilla: King of the Monsters and forthcoming Dune films.
This is interesting also, perhaps you'll recall last year when it was revealed that Kevin Smith was offered the chance to direct a remake of the title:
"Somebody asked me, 'Hey man, we've got THE TOXIC AVENGER and we're gonna remake it, do a reboot, and hey, you're from Jersey.' And you know, I always kind of dug what Lloyd Kaufman and the Troma people do, it was right in Jersey, I remember seeing them on the news all the time – 'Hollywood, motion pictures in New Jersey? Right here at Troma!' And TOXIC AVENGER was insanely well known. So I always respected the Troma world and Toxie franchise. So I was like, all right, I'll go down the rabbit hole a bit and see what's what.

And we parted ways fundamentally on the budget, because I was just like, 'Part of the charm of the TOXIC AVENGER is that it was made for two nickels. If you're gonna do it again, don't spend a lot of money.' But they were like, 'No no no, it's a 35 million dollar movie.' And I was like, 'It's a f*ckin' remake of THE TOXIC AVENGER, the guy in a tutu with a bad makeup job, what are we gonna spend all the money on?' So right then and there, I'm clearly not on the same page. In my head, if I need to see a TOXIC AVENGER remake, it should be done in the spirit of the original. Instead, they were literally trying to start a franchise, Marvel-ize it and stuff like that. And I'm like, 'I don't know if you guys saw that movie.' So I just quietly stepped away. I understand what they were going for, but I would never want to see that version of the movie. It would be like somebody doing a 35 million dollar version of CLERKS. Why would you bother?"
We'll let you know when we hear more about The Toxic Avenger.
Enjoyed this article? Share it!