This season of Amazon Studio's Mozart In The Jungle has been pretty great, and we're almost done watching our way through the 4th season of the show.
In s4e6 "Domo Arigato", Hailey (Lola Kirke), Rodrigo (Gael Garcia Bernal), Thomas (Malcolm McDowell), and Gloria (Bernadette Peters) headed to Japan for the Fukumoto conducting competition. While there, Rodrigo came face to face with a special robot called WAM (Wolfgang Amadeus Mozart) and the two didn't end the episode on favorable terms. That's being gentle, really. Hope he's insured.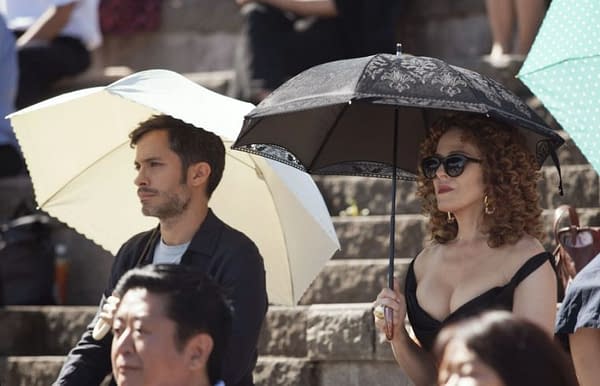 In s4e7 "We're Not Robots":
Are there going to be cylons? Please tell me there are going to be cylons.
What? I really like Cylons, and composer Bear McCreary would fit right in with this show.
Rodrigo makes his entrance, shakes hands with the first and second chair violins
Will he really go through with doing The Requiem?
The piece starts, and immediately we get a flashback to Rodrigo and Hailey frantically changing the WAM completed score
Hailey goes outside and pulls in the other contestants to help, and they start doing away with the non-period pieces of the original Mozart written score
Fukumoto is furious, and we see WAM being pulled out of the water
Betty quits the symphony board since she and Gloria cannot come to an agreement
Rodrigo takes Hailey to a house, and starts to burn the WAM pages of the score. "I needed to make a sacrifice".
Hailey puts him to bed, humming Burleious, and falls asleep herself at the table
A kabuki appears, and introduces herself as Izumo no Okuni (Kaho Asô), who says she started the artform. "Go and play down by the river."
Thomas takes Gloria to a hedgehog cafe, but she yells and they have to take hers awayhttps://twitter.com/OfficialBPeters/status/964968291268775941
"Great art sometimes needs a little destruction" Thomas says.
Hailey agrees to let Rodrigo come and watch her doing the second part of the conducting competition
"You have 20 minutes to rehearse, and when we get bored, you'll hear the bell." So like a gong show performance for each of the contestants
Thomas defends Hailey's performance to the judges, who say the women contestants are too emotional
The five finalists are named, and Hailey manages to make it in, but the other female contestant Yuki was eliminated
Hailey gets the best pep talk from the sole female judge, pointing out that only 4 of the top 110 orchestras across the world are led by women, and that she needs to "take the f**king Muller's 6th and jam it down their throats."
Betty and Thomas find each other at a charming bar, and he offers her a position with his Queens Philharomic
Rodrigo walks in on Hailey talking to her own ghost, and he tells her she'll win
Hailey asks for brutal honesty from Rodrigo, which as we know never really ends well, and he lets her have it
Gloria finds out about Thomas asking Hesby to premiere his piece. And Thomas tosses back at her the gifts and things, and she finally tells him about the Guggenheim job.
Hailey steps up to perform her finals conducting pass, and she starts out ok, but she checks out, and we see her leave her body and walk past the audience. Rodrigo's head turns as she passes, like he felt her spirit go.
By Thomas's reaction, you know it didn't go great.
When the winner is announced, it's not a shock that Hailey hasn't been picked.
Betty and Thomas are now courting Fukumoto to take away the NYC funding and give it to the Queen's Phil instead
Hailey grabs a bottle of whiskey from the bar, and runs from the party, leaving Rodrigo calling to her as another group of "Rodrigo is Dead" guys circle him
The episode closes with Hailey walking the streets alone as she begins to cry
Enjoyed this article? Share it!