Let's Talk About SyFy's 'Krypton' Season 1 Pilot
I will start off by saying if you didn't like Man of Steel, you maybe possibly won't have a good time with SyFy's Krypton. But that doesn't mean it isn't a good enough show on its own, because it does have promise.
Fans of the current CW slew of DC Comics based shows may find this one right up their alley, but I will caution that Krypton seems to cater to a slightly more 'adult' audience, especially when paired with a TV-14 rating.
The story of Superman's ancestors on SyFy has been fraught with issues – an early trailer was released before the show was even publicly announced (the network denied the show was even in development), but a fairly positive response soon changed that. Man of Steel writer David S. Goyer created Krypton for SyFy and producer Cameron Welsh (Constantine TV series, The Last Ship) is on board as showrunner.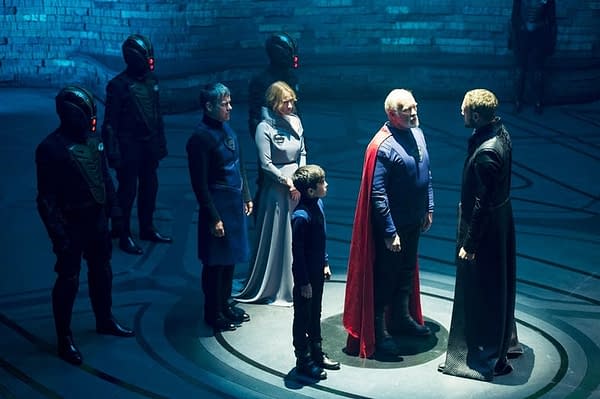 The pilot episode (titled simply 'Pilot') begins with a voice over and flashback to Superman's great-great-grandfather Val El (Ian McElhinney) in the middle of a trial in the city of Kandor. Apparently Val did some forbidden shit, and the council led by Daron-Vex (Elliot Cowan) is having NONE OF IT. They sentence him to death, and the House of El is stripped of any and all rank within the caste society.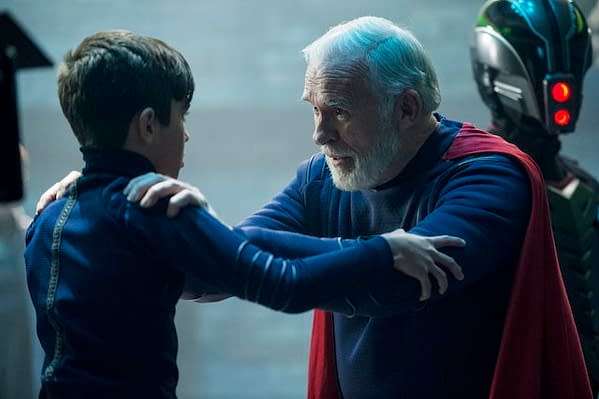 Flash forward a few years, and an older Seyg El (Cameron Cuffe) is making ends meet as a bar brawler in a scene remarkably like Star Trek '09's introduction of one James T. Kirk. Actually, that's a pretty fair comparison in this pilot (coming from someone who LOVES '09), setting the tone of both youthful combativeness and a desire to do better.
Seyg lives with his parents; his mother Charys-El (played by Deadwood and Caprica star Paula Malcomson) and his father, who are still living as low caste members post Val's transgressions.
Through a series of happenstances, Seyg manages to prevent a would-be bomber from doing serious damage to Daron-Vex and the rest of the council, thusly becoming a hero and on the fasttrack to rise up from the Rankless. Daron rewards Seyg with the promise of pairing with his daughter, Nyssa-Vex (Wallis Day). This puts some strain on Seyg's relationship with his lover, mercenary-class Lyta Zod (Georgina Campbell), but that's just scratching the surface of what happens in the pilot.
Time traveler Adam Strange (Shaun Sipos) takes the place of Booster Gold as far as storylines go and shows up with two gifts and a warning, the big bad is revealed to be Brainiac (Blake Ritson) who looks pretty great makeup-wise, and there is a soundcue drop of the classic John Williams Superman theme at a key and crucial moment.
As a fan of Superman and his legacy, I'm definitely curious to see where this series is headed. While not perhaps the super compelling type of pilot, it's a solid beginning for what could be a promising turn in the genres of both superhero and science fiction.
Krypton airs on SyFy on March 21st, check your local listings for times.