London's West End Hit By Coronavirus – Great for Theatre Goers
As regular readers will know, my kids' school is closed for a week or two over fears of the coronavirus, after staff and students came back from Italian holidays, and there were two suspected cases. The school is currently undergoing a deep clean and the kids are doing their lessons from YouTube videos. My eldest has discovered she can now do a whole day's schoolwork in three hours and doesn't have to do P.E. While my youngest has now discovered we can afford West End theatre.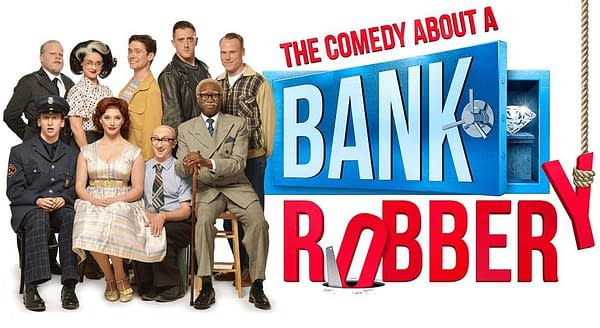 Last night we went to see The Mischief Theatre's long-running The Comedy About A Bank Robbery at the Criterion Theatre, at Piccadilly Circus. Seats are usually in the £60-£80 ballpark. We went to the half-price ticket booth on Leicester Square at 5pm and bought two restricted view tickets for £11 each.
Because we had heard that theatre audiences were pulling out over coronavirus fears. And it seemed to be the case. The theatre was half full. So we sat at the back behind a pillar and scoped out the rest of the room. Half a minute before the curtain was up, we struck, switched seats and sat in £60 spots – with a full view of the stage, no tall people blocking my diminutive daughter's view.
And we laughed and laughed and laughed. I've seen A Comedy About A Bank Robbery before, but the cast has changed a few times since and the roles have clearly bedded in. Fast and furious, I clearly didn't remember all the jokes and we both cracked up – and repeated on the bus home – the miming from one character to another of how someone died by pretending to be a plane, to the exclamation 'She was crucified.' The play takes the essence of the Abbot And Costello 'Who's On First' routine and turns it into physical comedy and structure, a remarkable achievement. And the bank wall floor scene is a set piece that has become legendary in theatre staging, up there with the helicopter in Miss Saigon. And right now, if you play your cards right, wash your hands, take hand sanitizer and don't touch the doors or seats, you can see it and pay half what the neighbouring cinemas are charging for you to see Dr Doolittle. I mean, come on.
The Comedy About A Bank Robbery is crowd-pleasing farce, but fast-paced, repeatedly inventive, some terribly over-the-top cod-Americana over the top amazing stage work, and performances that make the actors work for their rightful applause, and is only running until May. If you can see it, if you haven't seen it, you need to see it. The Half Price Ticket Booth on Leicester Square opens at noon. Let's see what they have for Leopoldstat…
Just don't expect reduced rates or being able to seat jump at Harry Potter And The Cursed Child or Hamilton. With the massive crowds lined up through the century, those are plays that have the coronavirus licked. As it were. [UPDATE- Scratch that, there are Hamilton tickets from as low as £40 right now. I'm going again…]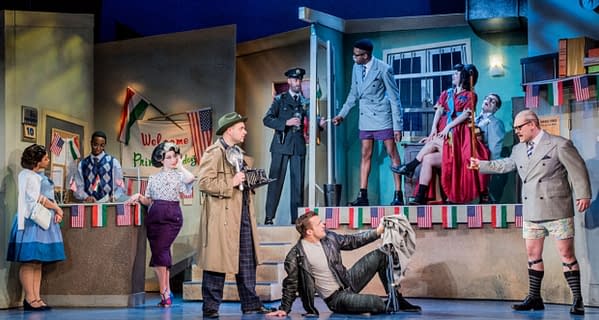 UPDATE: Red Cabin Theatrical and Frazer Brown productions have got in touch to say that as a result, the Night Of The Living Dead show is being pushed back to 2021, with this following statement;
COVID 19 A STATEMENT

In light of the continuing uncertainty surrounding Coronavirus and it's spread in the UK and worldwide. Effective immediately we have decided to halt all non essential work across our ventures moving forward for the next 6 months. We have co-ordinated with all of our management across industries and continents who are all in agreement.

This is subject to change should the situation look likely to end soon. Assessments will be made as further information comes to light.

In the current climate of uncertainty and the slim chance public venues, transport and indeed towns have the potential to be closed to the public in the coming months, We will be moving our proposed productions, business ventures and projects for 2020 forward to 2021. With no plans to produce or invest further in 2020 until a clearer picture emerges regarding contamination and the safety of audiences, employees, the public, crew and casts.

Regarding our various business ventures and clients, especially with regards to chain of supply we will be contacting every corporate customer and client in the coming days.

Regarding our theatrical, public , concert and exhibition ventures:All ticket holders for any forthcoming shows that are solely produced by us will be fully refunded. These events will be moved forward to a TBA date in 2021 where possible.

ALL of our employees will be paid fully during this time of absentia regardless of workload and We will be running operations remotely, co-ordinating with key employees working from home.
---
---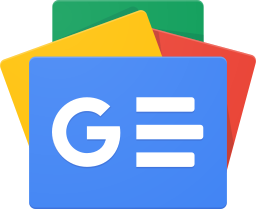 Stay up-to-date and support the site by following Bleeding Cool on Google News today!