By Amanda Gurall
I attended the panel for one of the most underrated shows on TV today, The Magicians on SyFy. The show is an adaptation of Lev Grossman's trilogy and can be described as an adult Harry Potter though I feel that barely scratches the surface. If this is a new show to you go watch the first season and come back to see what the cast had to reveal about season two.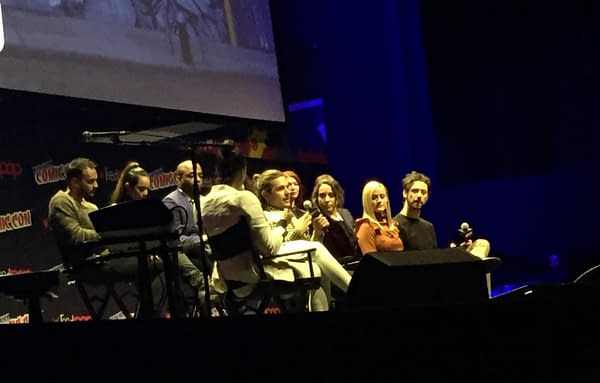 Hale Appleman who plays Elliot said about his character "Elliot's heart beats louder than he wants you to think. He has nurturing aspects and he will throw you a party and make sure you have good time but he won't talk about the good time. He is a reluctant giver."
Stella Maeve (Julia) said "The characters in The Magicians are beautifully flawed, they use magic as a metaphor for real life problems. You see these people in these situations that happen to you and me, and we use that as the outsource tool to make it fantastical but it's all relating to real life."
Arjun Gupta who plays Penny got a lot of attention from the crowd and moderator Aisha Tyler, who was hillarious. We have an in depth interview coming to the site very soon so check it out for more Arjun and the rest of the cast.
Margot is played by Summer Bishil and is one of the funniest and sexiest characters on SyFy. She spoke about her relationship with Elliot and where Margot is going in the second season. In season one she had to come to terms with the fact that Elliot had to marry someone and she lost her best friend for a period of time. Summer assured us that the relationship only gets more complicated as we proceed and that Margot will really come into her own and when confronted with extreme circumstances she meets them head on, more like Janet from the book series. Their on set nickname for her was "Fillory Clinton"!
We were teased that romance will come for Dean Fogg but it is definitely not with any of his students. We also found out that there are several full musical fantasy numbers in the season which if handled properly sounds like fun.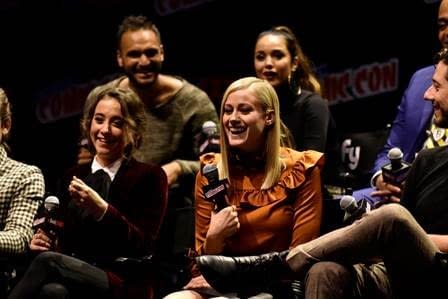 We got to see a trailer for the second season and I am not exaggerating when I say it looks absolutely beautiful and action packed. Alice was seen in a fierce battle and crowns were placed on three other characters by Elliot. Julia is going to be in some intimate scenes with the beast where they connect through their sexual assaults and need for revenge. Dean is there to support the friends as they rule Fillory and fight several foes. We also got to see the throne room which was absolute ethereal magic. The cast and executive producers gave praise and credit to the Production, Costume and Lighting Designers because as Producer John McNamera said he was afraid that Fillory would end up looking like a "bad Robin Hood" but those fears were completely unwarranted. The season looks vibrant, magical and exciting.
The Magicians season 2 will premiere on SyFy in January 2017.
Enjoyed this article? Share it!