After word broke earlier this week of a Joker origin story movie in development, we get more news on the Clown Prince of Crime's future in cinema.
Variety just broke the story that Oscar winner Jared Leto will be reuniting with his Suicide Squad co-star Margot Robbie for a Harley Quinn and Joker centric film.
Theoretically, the project *could* be a prequel to Suicide Squad, showing audiences more of the unique relationship of Harley Quinn and The Joker.  That sounds better than 'alternate reality', right? Because that's what David Ayers' version of the pair felt like; watching a Mirror Mirror version of the characters.  Or, the proposed film could be a continuation of where the characters left off at the end of Suicide Squad.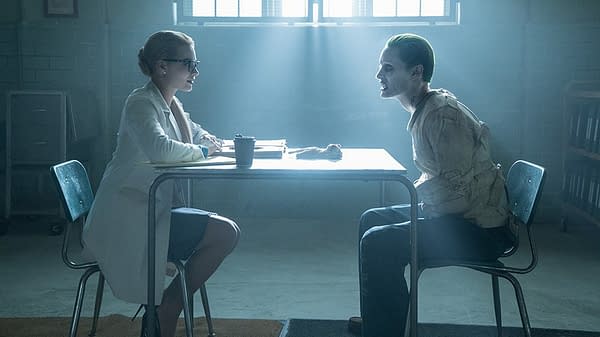 Many outlets are commenting that maybe this project means the previously rumored "Gotham City Sirens" film has been shelved, as little has been said regarding it.  The "Sirens" would have featured Harley Quinn (Robbie again), Poison Ivy, and Catwoman in whatever context the filmmaker chose to feature them.
Almost nothing is known about this upcoming project, but Glenn Ficarra and John Requa (This Is Us) are in final negotiations to write and direct the film for Warner Brothers Pictures.
The story is developing and we will update as more information becomes available.
Enjoyed this article? Share it!