"Spider-Man: Far From Home": Viral Daily Bugle Site Goes Live
One of Spider-Man's biggest thorns at his side isn't a supervillain, but news mogul and pundit J. Jonah Jameson, who runs TheDailyBugle.net; a variation of it comics' origin as a daily New York City newspaper. Sony announced the site has gone live with a video message from Jameson, himself. J. K. Simmons, who originally played the live action adaptation in the Sam Raimi-era Spider-Man films, reprises his role for the Marvel Cinematic Universe, now just Sony's Spider-Man universe again.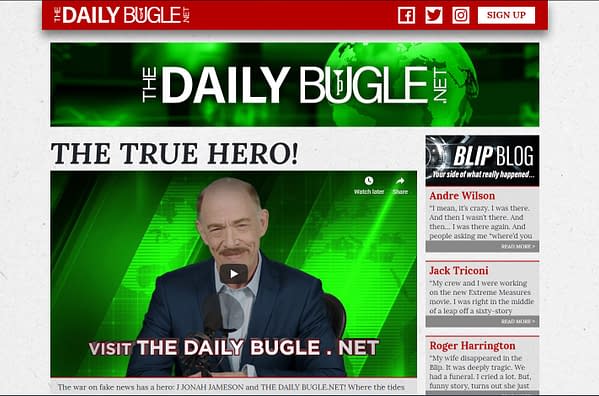 Fake News on Purpose
So as not to confuse visitors of it being a "real" news site, Sony added information about Spider-Man: Far From Home at the page's footer.
In the film's post-credit scene, the company's now strictly online news outfit with Jameson taking to the airwaves to declare Spider-Man as a menace and reveals his secret identity with footage sent from Mysterio (Jake Gyllenhaal), whom he praises his heroic efforts.
The site also contains stories on the sidebar and below the video asks if the Night Monkey (Spider-Man's alternative non-alien black costume) is a "foreign hero or another masked menace." While the timing is great for the home viewer, why didn't Sony open the site sooner?
A Tale of Two Jamesons
A difference between the two Jamesons is Raimi opted to make Simmons look more like the character does in the comics with his flat-top, while director Jon Watts opted for Simmons' natural bald look. Assuming the film was created under the guise of Sony continuing their relationship with Disney in mind, how will the franchise proceed?
While it's obvious no MCU character will set foot in Spider-Man's unless the new deal is made. Can the film make any references about his exploits in the MCU? It would be a shame if they had to cut that off given the history built. MCU Spider-Man had Tony Stark (Robert Downey, Jr.) as mentor and father figure rather than Peter's Uncle Ben, who is only referenced via Easter egg.
Since the cat is out of the bag, there's no foreseeable way Parker works for him as a freelancer in that universe compared to the Raimi films. Spider-Man: Far From Home is currently available on Blu-Ray and digital.