Matrix Cinematographer Explains Why the Sequels Were So Hard to Shoot
There is a certain sense of freedom that comes with being a smaller production that kind of comes out of nowhere. There isn't a ton of oversight from studios, but they don't know who you are and probably don't care. However, when your film turns around and becomes a massive hit, then there is something else to be said. Now the studio executives are going to be looking over your shoulder, wondering if the next movie is going to be just as big as the first. Then there is the extra money as you tend to get a bigger budget. A bigger budget means the constraints of whether or not you can afford something get thrown out the window, and directors and writers can start doing more. This is essentially what ended up happening with The Matrix sequels, according to cinematographer Bill Pope. Pope was recently on Roger Deakins podcast Team Deakins (via Indiewire) and spoke about how things changed between the two movies.
"Everything that was good about the first experience was not good about the last two," Pope said. "We weren't free anymore. People were looking at you. There was a lot of pressure. In my heart, I didn't like them. I felt we should be going in another direction. There was a lot of friction and a lot of personal problems, and it showed up on screen to be honest with you. It was not my most elevated moment, nor was it anyone else's. The Wachowskis had read this damn book by Stanley Kubrick that said, 'Actors don't do natural performances until you wear them out.' So let's go to take 90! I want to dig Stanley Kubrick up and kill him."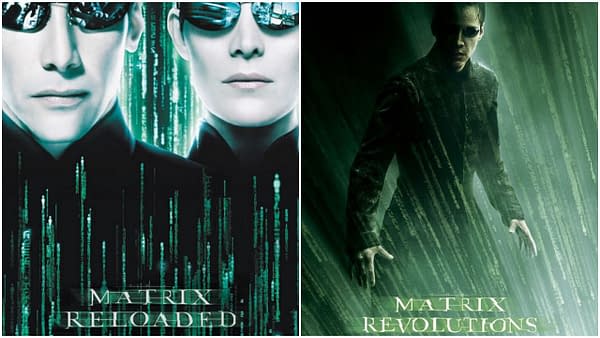 Oh, Kubrick, still making actors and crews lives hell from beyond the grave. That seems pretty on-brand for him. Pope went on to talk about the extended shooting schedule since the crew shot The Matrix Reloaded and The Matrix Revolutions back to back, which made an already tiring production even worse since it was just too long, according to Pope.
"There is something about making a shoot that long, 276 shoot days, that is mind numbing and soul numbing and it numbs the movie," Pope said. "You think about 'The Hobbit,' where they [shot] one, two, and three, and the movies are just numbing. In the books you don't feel that because you pick it up and put it down. In a movie shoot it's too long. There's a limit from what you can take in."
Pope is not returning to The Matrix 4 but went on to say that it is still fond of the movies. He explained that he worked on transferring all of the films to 4k for Warner Bros, and he "wrote the Wachowkis and Keanu and Carrie Ann that we did a good job [on the sequels], we should be proud of them." We can hope that the production on The Matrix 4 isn't as brutal as the production for movies two and thing. The Matrix 4 just got a delay of almost a year due to the ongoing COVID-19 pandemic slowing down production.
The Matrix 4, directed by Lana Wachowski, stars Keanu Reeves, Carrie-Anne Moss, Priyanka Chopra, Yahya Abdul-Mateen II, Neil Patrick Harris, Jada Pinkett Smith, Jessica Henwick, and Jonathan Groff. It will be released on April 1, 2022.