Michael B. Jordan Really Wanted to Play T'Challa in Black Panther Michael B. Jordan plays Erik Killmonger in the Black Panther movie from Marvel, and he plays it well. However, in an interview published in this week's Black Panther: The Official Movie Special from Titan, it looks at how he originally wanted the main part — for a very long time.
Here's an extract from the magazine, out now.
—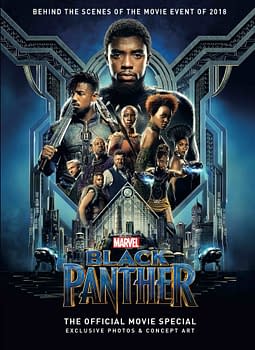 MICHAEL B. JORDAN IS ERIK KILLMONGER
Michael B. Jordan's acting résumé has been growing and becoming ever more amazing over the last few years – and he's hit the jackpot again by playing a Marvel supervillain in Black Panther. Here, Jordan discusses his role as Erik Killmonger, and shares his thoughts on what the movie means to him.
Black Panther Movie Special: How familiar were you with Marvel Comics before taking on your Black Panther role?
Michael B. Jordan: I was a big Marvel fan, growing up. I read the comics and graphic novels and watched the cartoons as a kid, so I was pretty familiar with the Marvel universe.
Were you familiar with the Black Panther character?
Very much so. He was a childhood favorite and a character that I always looked up to and admired. Black Panther was actually always a character that I wanted to play one day when I was a kid.
What did you like about Black Panther?
Being a person of color, being African-American and not having many Super Hero characters that look like me that I can actually relate to – he was the character I wanted to play. And I really fell in love with Wakanda, this world where black people were so strong and powerful.
How excited were you about Marvel Studios doing a Black Panther movie?
Oh, super excited. The character did so well in Captain America: Civil War – he pretty much stole a lot of the movie, in my opinion. Chadwick [Boseman] did such an amazing job playing him – it was only a matter of time before he got his own movie.
What appealed to you about this film?
Me and Ryan Coogler are like brothers. This is our third film together. This is a project that we spoke about, and he mentioned me coming on and doing something different, playing a villain. To be able to team up with him again was a no-brainer. And I haven't had the opportunity to work with Chadwick before, so this is great.
Tell us about your character.
I play Erik Killmonger. He's the villain of this film – but hopefully you can empathize with him and see where he's coming from. He has reasons for doing what he's doing and he feels that he's right. He's a very, very smart guy. He's very intelligent. He went to MIT, graduated top of his class, enrolled in the Navy SEALs and special forces, and black ops.
—
Black Panther: The Official Movie Special celebrates the making of Marvel Studios' hotly anticipated new movie, Black Panther, from exclusive cast interviews to concept art, this is fans' all-in-one guide to the King of Wakanda's debut movie.
Available in US stores in both softcover and hardcover editions, Titan's deluxe Black Panther: The Official Movie Special will allow fans to go behind the scenes of Marvel Studios' new movie. Presenting unseen behind-the-scenes photos from the movie sets, concept art, and exclusive secrets from the nation of Wakanda with interviews with the stars of the film, including Chadwick Boseman, Michael B. Jordan, Lupita Nyong'o, Andy Serkis, Martin Freeman, Forest Whitaker and Danai Gurira.