Are There Mid-Credits and Post-Credits in Spider-Man: Far From Home? (No Spoilers)
Just got out of seeing a morning showing of Spider-Man: Far From Home – and because I'm in London, it wasn't far from my home. And good to see SHIELD spying on the entire city from the Shard…
But forget about this chocolate-box American tourist trip to Europe, the question is, are there mid-credits, post-credits and should you stay in your seats through the very, very long credits to the end?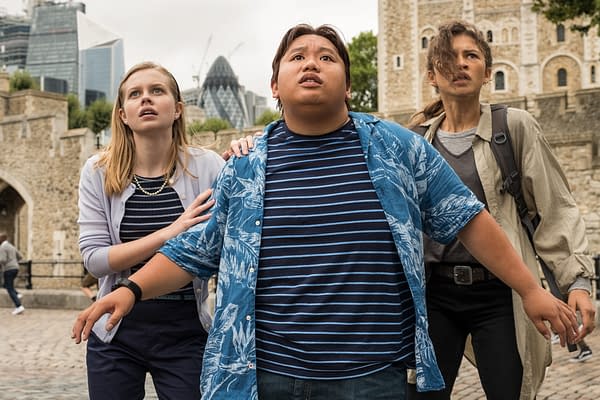 Okay, first up, the first mid-credit scene is essential at changing the game and setting up Spider-Man 3. The return of an old friend, in a fashion ripped straight out of the comic books – specifically the Dan Slott/Humberto Ramos ones.
And the post-credit scene utterly essential in reinterpreting everything you've seen for the last two hours as well as answering a nagging doubt that plagued me for the film. And setting up Marvel Phase Four – it's all going to get rather cosmic going forward.
Spider-Man: Far From Home, co-produced by Columbia Pictures and Marvel Studios, and distributed by Sony Pictures Releasing is the twenty-third film in the Marvel Cinematic Universe. The film is directed by Jon Watts, written by Chris McKenna and Erik Sommers, and stars Tom Holland as Peter Parker / Spider-Man, alongside Samuel L. Jackson, Zendaya, Cobie Smulders, Jon Favreau, J. B. Smoove, Jacob Batalon, Martin Starr, Marisa Tomei, and Jake Gyllenhaal. In Spider-Man: Far From Home, Parker is recruited by Nick Fury and Mysterio to face elemental threats from another dimension while he is on a school trip to Europe. Spider-Man: Far From Home is in cinemas from today.