We know, we know- we talk about Godzilla: King of the Monsters with all the excitement and hope of writers who have never been burned by a disappointing film. We're just REALLY hopeful, ok? The trailers have all been incredible, and Director Mike Dougherty says all the right things about the movie.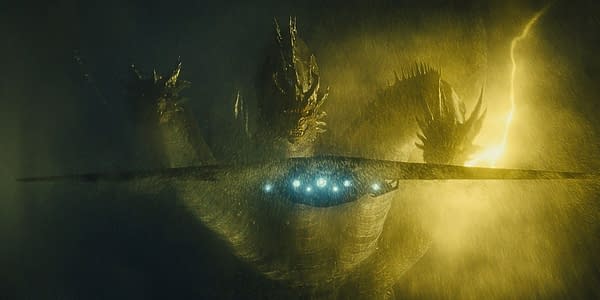 Most recently to ComicBook.com, it was his descriptions of the importance of silhouette with the Titans:
"Similar to the sounds of the creatures, to me it's really important that the silhouettes of the creatures honor the originals. Like, that's always the basis for any good silhouette of a creature, that's always the basis for any good creature design is the silhouette. In the same way that you need to be able to listen to creature noises and identify it without seeing it, you need to be able to look at the silhouette of your monster, whether it's the Alien, or Godzilla, or Rodan, or whatever, and you need to identify it.

They can't just look like gigantic dinosaurs, Jurassic Park has that covered, these have to be distinct, they have to be their own thing, they're Titans."
And, the comment that REALLY got us excited:
"I don't know if [you all] are fans of ancient aliens, but I love it, and there's a certain approach there. Primitive man saw these creatures, you want to give them a presence that would make them drop to their knees and bow to this god."
Yes. Yes that. That's EXACTLY what we want to hear.
The official synopsis reads:
Members of the crypto-zoological agency Monarch face off against a battery of god-sized monsters, including the mighty Godzilla, who collides with Mothra, Rodan, and his ultimate nemesis, the three-headed King Ghidorah. When these ancient super-species-thought to be mere myths-rise again, they all vie for supremacy, leaving humanity's very existence hanging in the balance.
Dougherty is directing the film from a script he co-wrote with Zach Shields, which will star Zhang Ziyi, Kyle Chandler, Vera Farmiga, Millie Bobby Brown, O'Shea Jackson Jr., Bradley Whitford, Ken Watanabe, Thomas Middleditch, Charles Dance, and Aisha Hinds.
Godzilla: King of the Monsters opens in theaters on May 31st, 2019.
Enjoyed this article? Share it!