Mondo just closed two big-name shows yesterday, one focused on Charlie Brown artist Charles M. Schulz and a second collaboration with one of their longest-term collaborators, Belgian illustrator Laurent Durieux. The big-name collaborations won't stop any time soon as they've announced that their next gallery show, held in conjunction with the fine folks at Cyclops Print Works who currently have the license for screen printed posters from Disney, that will focus on the movies of Pixar. Titled Spirit of Adventure: A Pixar Poster Show, the show will feature at least 15 new posters, most of which will be revealed beginning Monday, December 2 and likely be doled out until the gallery show opens. About the show, Mondo Creative Director Eric Garza says:
Pixar has a beautiful way of telling timeless stories that resonate with all audiences no matter their age. Their films are bursting with beloved characters, creativity, and imagination that is largely unmatched. In the end, nobody tells a story quite like Pixar. We are incredibly proud and excited to have partnered with our friends at Cyclops Print Works and several of our favorite artists to celebrate various iconic titles from Pixar's unbelievable catalog of films.
As an appetizer for the show, Mondo revealed the first of the posters will be available on December 6 that features our friends Miguel, Pepetia, and xolo dog Dante from the movie Coco all watching Ernest de la Cruz on the TV in the family attic. Miguel is playing guitar in the middle of his de la Cruz shrine which is framed by strings of multicolor papel picado depictions of Miguel's ancestors who he encounters in the Land of the Dead as well as the movie title.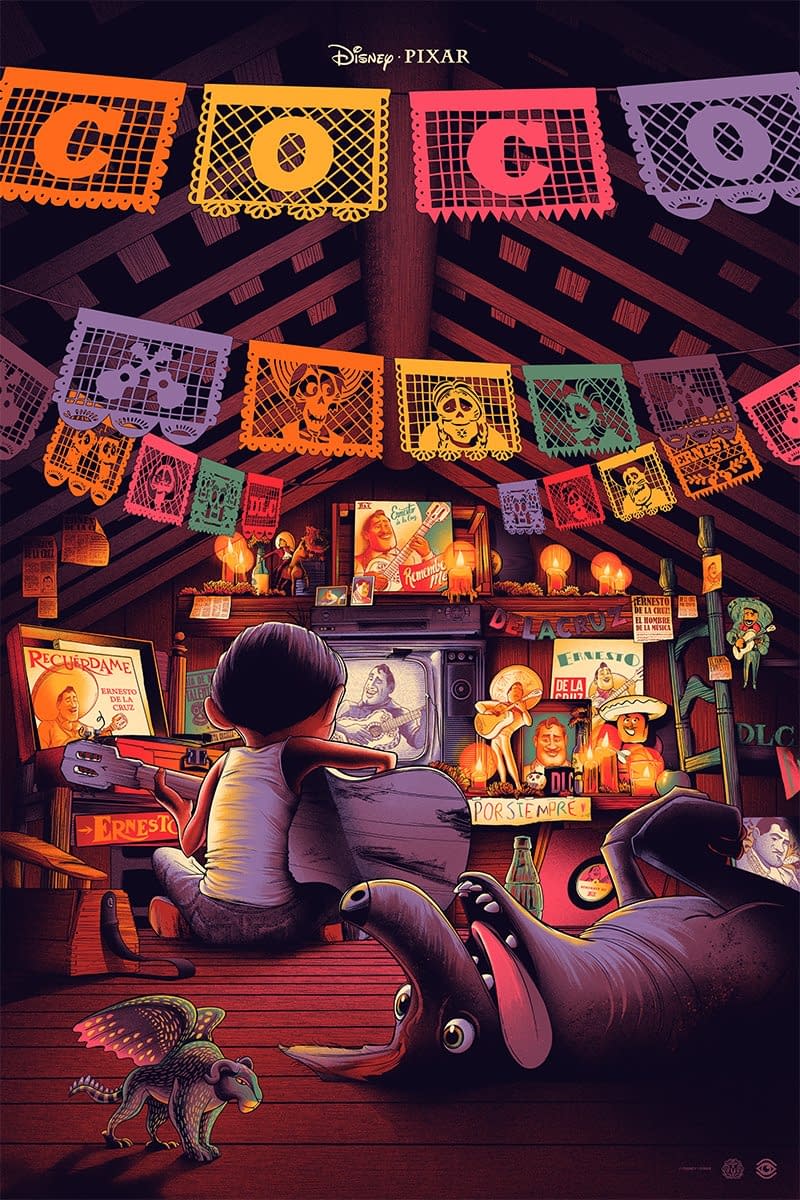 The gorgeous poster by César Moreno will be 24×36", will have a run of 370, and will cost $60.
The Pixar show will have its opening the evening of Friday, December 6th, 2019 at the Mondo Gallery, 4115 Guadalupe St. in Austin, TX on Friday, December 6. The gallery will also host a family day on Saturday with "a variety of activities, including face painting, as well as a variety of vegan breakfast treats from a local favorite."
Enjoyed this article? Share it!