Mondo Dropping New Francesco Francavilla Invisible Man Poster Tomorrow
Mondo will have a poster drop tomorrow, featuring Francesco Francavilla artwork for the Blumhouse remake of The Invisible Man. There will be two different versions of the poster, one with a blue tint that is the regular release limited to 225 pieces for $50, and a second red-tinted version limited to just 100 pieces for $75. The Mondo poster features the tech suit-wearing Invisible Man towering over his mansion from the film. Francacilla also did a poster for the original film from 1933 in the past for Mondo. You can see both versions below.
Mondo Francavilla Stuff Sells Out Quick
"Tomorrow we have a new poster by Francesco Francavilla for one of the best new horror releases of the year: THE INVISIBLE MAN, starring Elisabeth Moss. The film was released on home video this week and we're super excited to have partnered with our friends at Universal and Blumhouse on a new poster for this excellent adaptation of one of Universal's classic monsters. "
"Continuing the celebration of this horror stalwart, we also have a new enamel pin for THE INVISIBLE MAN from artist Matt Taylor. This classic version of the troubled chemist uses clever cut-outs to depict this centuries-old villain. Check out both on sale tomorrow via The Drop."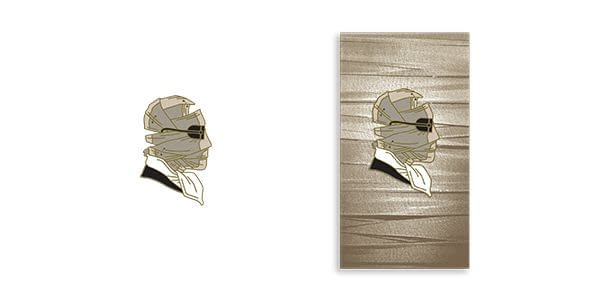 Mondo will also have a new Invisible Man enamel pin designed by Matt Taylor up for sale based on his more traditional look. All three of these items will go up for sale at Noon EST Thursday on The Drop as always. When Francesco Francavilla is involved, you can bet they sell-out will be fast. Be at the ready right when these drop tomorrow, or be certain you won't be able to see them again.