Mondo is taking a break from the typical film posters and vinyl releases they do tomorrow to offer a new print for charity. "Spring Shelter" by Laurent Durieux shines a spotlight on what we are all going through right now and features a woman staying home and watching entertainment on her phone while her cat chills on the bed with her. It is a striking piece and perfectly sums up this time in the world. After cost, Mondo will be donating all profits from the sale of this print in a 50/50 split to Direct Relief and The Alamo Family Fund. This is a timed-release as well and will be on sale on The Drop starting Thursday through April 30th. Check out the print below, and go here tomorrow to pick one up for yourself.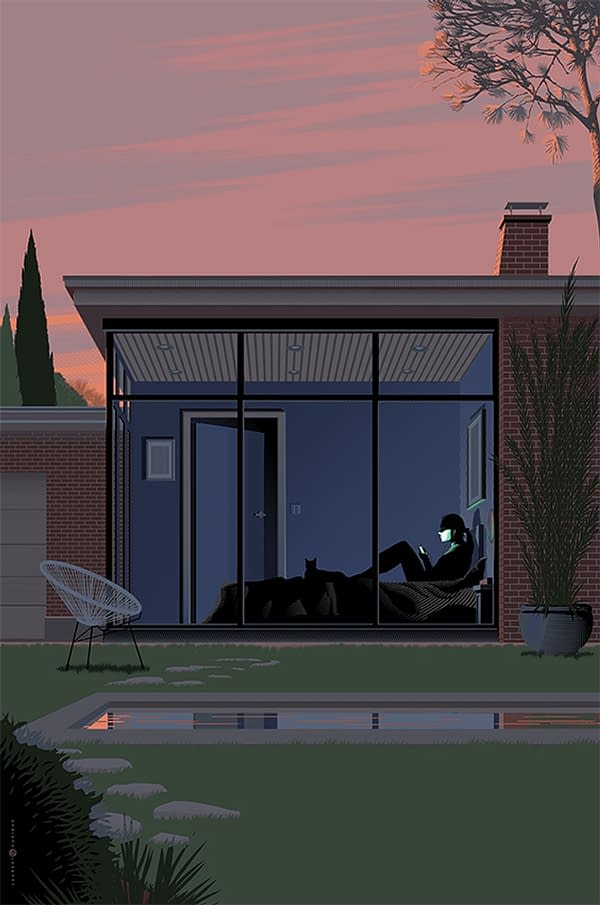 Mondo Spring Shelter Print Info
"In these challenging times, it is important that we all work together. Mondo are proud to have teamed up with Laurent Durieux to release a brand new timed edition print. "Spring Shelter" highlights this unique time in our history, while also putting a spotlight on the sacrifices we are making to get through this global crisis.
After costs, all proceeds of the timed edition poster will be split 50/50 between two causes that are very important to us: Direct Relief and the Alamo Family Fund. Direct Relief is a humanitarian and nonprofit/nonpartisan aid organization with a mission to improve the health and lives of people affected by poverty or emergencies. The Alamo Family Fund was created to help Alamo Drafthouse employees who are facing financial hardship after a natural disaster or an unforeseen personal hardship including the global pandemic COVID-19, which has resulted in the unfortunate furlough of virtually all venue/theater members, and up to 80% of corporate staff.
Stay safe, stay home. Thank you so much."
Enjoyed this article? Share it!