Nerd Beauty: Live Deliciously with Sorceress Goth Lip Balm
I love nothing more than Disney-inspired beauty products — especially when it involves Maleficent, the most badass fairy of them all. This weekend at (Re)Generation Who I came across a table of nerdy products from 42 Nerdtastic Place. The shop started in 2014, and has grown over the years. They sell a variety of nerd-inspired products, including candles, body care, jewelry, and more. I opted for the Sorceress Goth Lip Balm, as I have zero control and will buy anything Maleficent themed.
The lip balm was sealed in plastic, but it didn't take long to unwrap. According to their website:
"This black pearl, goth lip balm sheer is inspired by the wicked sorceress. The black pearl sheer has a hint of glitter for a multi-layered look. This sheer not only gives you a hint of shine but it gives you the enjoyment of a lip balm. Your 'Sorceress' lip sheer also has a fig scent for added depth. Great gift for a fantasy lovers, magicians or anybody who needs a pop of color."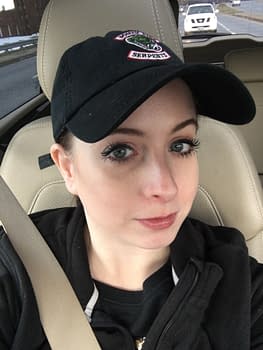 While I'm no stranger to black lipstick, sometimes I just want a hint of color. This did exactly that, and it gave my lips a nice shimmery look. It did an excellent job of hydrating my lips, and it smelled great too! I didn't feel the need to re-apply this every hour or so like with other lip balms, so this product is worth it.