Porgs are so stinking cute, and I just want to redecorate my whole life with them. For now, though, I'll settle for these equally stinking cute Porg cookies, which I'm very excited to make! Thanks to Disney Family for the recipe.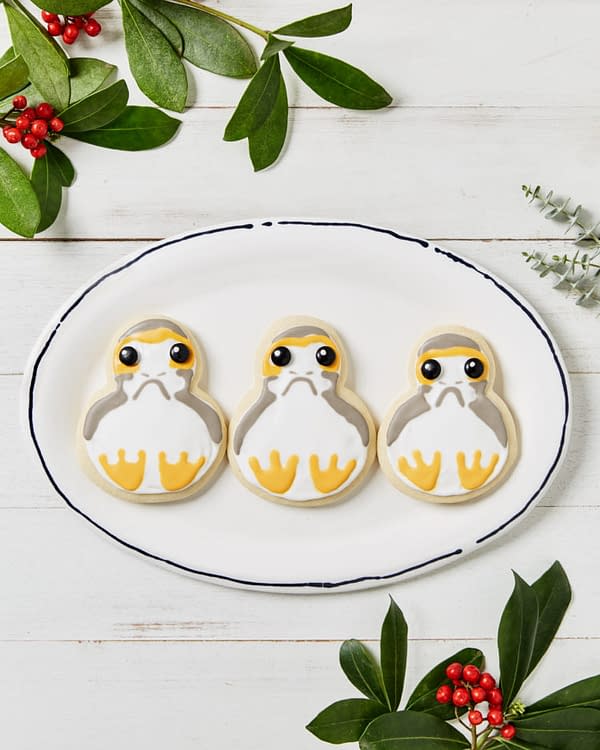 Ingredients
COOKIES:
Porg Template
Cardstock
Scissors
1/2 Cup unsalted butter, softened
1 Cup white sugar
2 eggs
1 Tsp vanilla extract
3 Tbsp milk
3 Tsp baking powder
2 1/2 Cups all-purpose flour
Circular cookie cutter
ICING:
2 Tbsp meringue powder
1/4 Cup water (plus more for thinning)
4 Cups powdered sugar
1 Tsp vanilla extract
Orange, gray, and white gel food coloring
Pastry bags and tips
Offset spatula
Toothpicks
Black candies
Helpful Tip
All cutting should be done by an adult.
Directions
Print out the porg template on cardstock and cut out your preferred size (it should be similar in size to the cookie cutter).

Preheat oven to 375° F.

Then, start on the dough. Cream butter and sugar by mixing together.

Whisk eggs in a separate small bowl until yolk and whites are combined.

Add whisked eggs, vanilla, and milk into butter and sugar mixture, beating together.

In a separate bowl, mix together baking powder and flour. Then add it into your wet cookie mix and combine together with a rubber spatula.

On a floured surface, roll out cookie dough.

Bend the cookie cutter into the shape of the porg cutout. Then use to cut out the cookie dough.

Bake on a parchment paper-lined cookie sheet for 7-9 minutes. Let cool.

Now make the royal icing.

In a mixer, whisk together meringue powder and water until foam starts forming. Add powdered sugar and vanilla. Mix for about 2 minutes for the right consistency. If the mixture is too thick, add more water (1 teaspoon at a time).

Separate into bowls and add food coloring. Thin the icing with water, until it has reached the desired consistency.

Add to piping bags. Then, decorate using the template as a reference. To frost the main shape in white, start with a large tip and place frosting in the middle. Then use an offset spatula to spread to the corners. For the more intricate details in orange and gray, use smaller tips. Make the borders and expand to the middle with toothpicks. Then add dark candies for the eyes.

Store in the refrigerator until you're ready to enjoy the cookies!
Enjoyed this article? Share it!