"Indiana Jones 5": Harrison Ford Says Production Begins Summer 2020
Harrison Ford is ready to don the bullwhip and Fedora at least one more time for the next installment of the Indiana Jones franchise. While the 77-year old came on The Ellen DeGeneres Show to promote his latest film, The Call of the Wild, he provided details on his next upcoming project.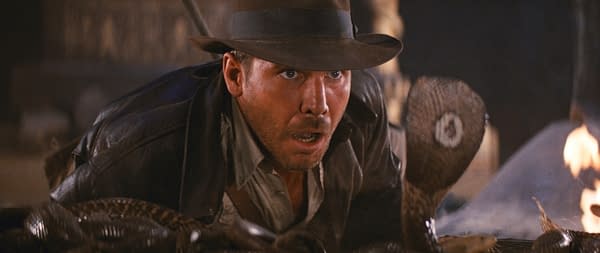 "It's going to be fun. They are great fun to make."
Ford said shooting begins a few months. In a separate interview in CBS This Morning, he said he enjoyed revisiting his classic characters with Indy, Han Solo from Star Wars, Rick Deckard from Blade Runner.
"When we have an opportunity to make another, it is because people have enjoyed them. I feel obliged to make sure our ambitions are as ambitious as they were when we started."
Indiana Jones History
When Ford first played Henry "Indiana" Jones, Jr, he was 39 years old in Raiders of the Lost Ark (1981). He filmed The Temple of Doom (1984) and The Last Crusade (1989) within the same decade. While The Last Crusade was supposed to be the final film of the franchise, creator George Lucas decided to write The Kingdom of the Crystal Skull (2008) 19 years later. The only common thread among them is Lucas, Ford, writer Philip Kaufman, and director Steven Spielberg.
The Indiana Jones franchise grossed a combined $1.961 billion worldwide at the box office despite mixed reception of Crystal Skull. Jonathan Kasdan, son of Lawrence Kasdan who co-write Raiders, is co-writing the fifth film of the franchise with David Koepp, who co-wrote Crystal Skull. Spielberg expects to return.
The first four films were distributed by Paramount globally. With Disney's purchase of Lucasfilm, the company will split distribution with Paramount internationally. Unlike Fox with Star Wars before their acquisition by Disney, Paramount remains involved with the production. No release date announced.