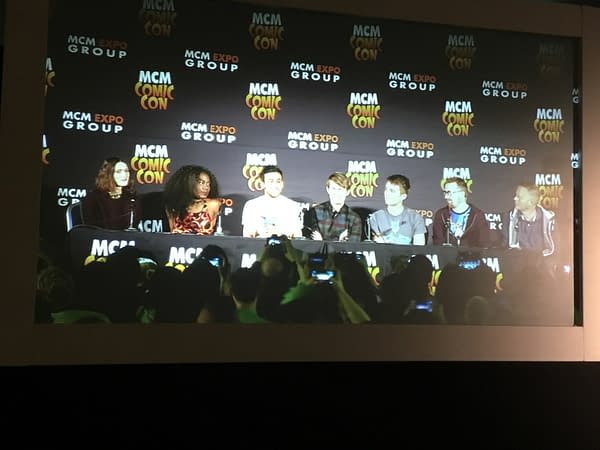 The cast and crew of Class came to MCM London Comic Con with Patrick Ness, Greg Austin, Fady Elsayed, Sophie Hopkins, Vivian Adeola and Jordan Renzo. So we all got to see the third episode on the big screen, which hit the BBC iPlayer this morning.
And everyone seems to be very happy with the reception the show has received. As Patrick Ness said "even the Daily Mail like us, though maybe not after that." There was a fair bit of male-on-male action after all.
But Vivian Adeola received the most praise for the episode we saw, an emotionally wrenching show that saw he confronted with her dead father – and the episode made sure to take us through that journey from life to death, giving us a similar experience.
Ness talked about wanting to make a sophisticated show that audiences would not expect to find sitting on the iPlayer on a Saturday morning. Something for an audience who watches HBO, who has a wide movie watching experience.
Fady Elsayed talked about how his believes Ness is deliberately torturing his character, Ram, emphasising the blood of his girlfriend on his face, and tapping his leg… though it was pointed out that his new relationship with April might change that – as something the audience wasn't expecting.
On that topic, when asked who of the rest of the cast the cast ship, Greg Austin promised that in Series 2 of Class, he and Jordan are going to try and turn Fady. While Sophie Hopkins wants to ship Corikanus and her dad – in the show. We think.
As for more Doctor Who crossovers, don't expect anything big? Ness stated how Class has to stand on its own rather than crossover, but there are all sorts of lines and dots you can connect.
The cast talked about a kinship between them on the show, more than in other shows they have worked on. And promised that there was so much laughing and japes that it is bound to leak out onto social media in the next few weeks.
The question was asked, since sixth form lasts two years, how will Class last longer that two series? Ness replied with questions "how long does a series last? Could we have something mega clever in mind for season three?" He also talked about how important for him the Corikanus/Matteusz relationship was on screen, something he didn't get to see when he was the target audience's age and would have really benefitted from.
And they all want action figures and Funko Pop vinyls…. with the response the show got in the room at MCM, they'll get them.
To see more from MCM London Comic Con, click here.
Enjoyed this article? Share it!