Patty Jenkins, Chris Pine Talk 'Wonder Woman 1984': Complications and Turnin' Tables
Scheduled production is completed on Warner Bros. Pictures upcoming sequel superhero film Wonder Woman 1984, and we've got a bit of insight from director Patty Jenkins and Chris Pine on the process.
Pine of course played Captain Steve Trevor in the first [modern] Wonder Woman film alongside Gal Gadot as the Amazonian princess, his sudden arrival on the hidden isle of Themyscira dramatically changing the lives of the Amazons forever. Considering the character's heroic end in the first film, we were all a little surprised at the news that Steve Trevor was returning for WW84.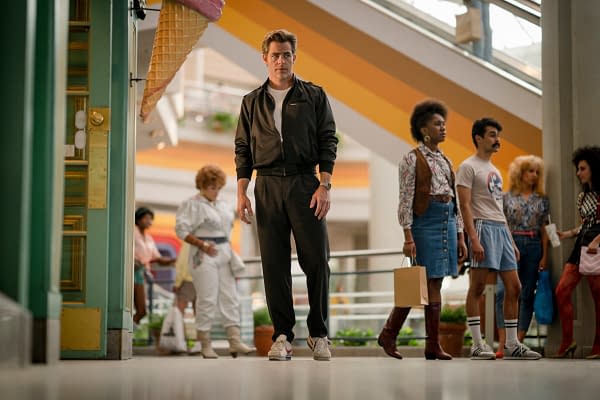 "This one is a little different for me tonally," Pine told Variety. "The tables are turned, and I'm more of the deer in the headlights." The first look image of Captain Trevor walking around an American mall in the 80's certainly reflects that.
[Jenkins and Pine recently collaborated on the limited TNT series I Am The Night, a period piece that tells a different story of the Black Dahlia murder, and the Variety cover story highlights more of that collaboration.] As to returning for WW84 with pretty much the same team in front of and behind the camera, director Jenkins commented:
"I think that every time you do something, it's for the first time. Wonder Woman 1984 is different because we all know each other, and that world is understood a lot more.

These days, there are difficult things to shoot. This is not that difficult; it's just the directions and the multitasking. And it is so interesting how normal it is once you have a complicated plan."
Warner Bros. Pictures Wonder Woman 1984 is set to hit theaters on June 5th 2020.