Press Play Director Greg Björkman on Mixing Music with Time Travel
Every artist is always looking for his/her big break, and director Greg Björkman is no exception. Having worked on projects like The Fault in Our Stars, Stuck in Love, and The Benefactor, he was approached to make his feature debut to helm the sci-fi romance thriller Press Play. The Avenue film focuses on a young woman, Laura (Clara Rugaard), who falls in love with Harrison (Lewis Pullman) and shares a deep appreciation of music. After a deadly accident, Laura has a chance to save Harrison after discovering a mixtape can transport her back in time, featuring a soundtrack that includes songs by Japanese Breakfast, Father John Misty, Dayglow, and more. Björkman spoke to Bleeding Cool about he came upon the project, casting, and inspirations behind the time travel.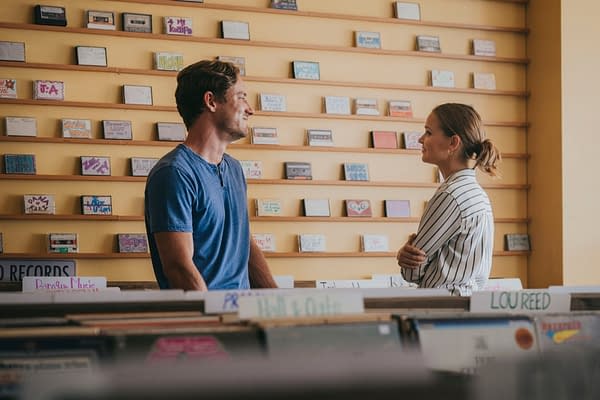 Bleeding Cool: What appealed to you about 'Press Play'?
Greg Björkman: I think the idea of being able to live moments twice is something that everyone thinks about. I think, "What if I had done this? What if I had done that?" Time travel is a pipe dream because I don't think…well, it might exist at some point in our lives, but I don't think it's possible. So giving the audience an ability to relive an experience that another character's going through gives them a way to live vicariously through them. It makes it a fun experience. Music is also super important in my life. I grew up playing musical instruments, and my parents encouraged that sort of thing, and combining those two felt like a good fit for me for a movie.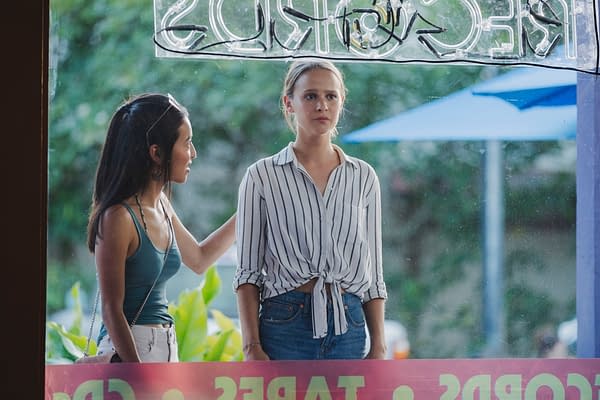 BC: When you conceived the idea with James [Bachelor], how did it break down creatively?
Björkman: I was initially given the idea by [producer] Josh Boone. I worked on a few of his films, and his first movie was the first one I ever worked on. We were chatting one day about what I wanted to do, and he said that he had this idea for a time travel movie, and he was never able to fix it. He said, "If you can fix it, you can go make it." I was given that a long time ago, and I didn't have enough life or storytelling experience. Then a few years went by, and I went through a really difficult relationship, but it also gave me enough firepower to write a movie and get the emotions right. I asked a friend who also worked on 'The Fault in Our Stars' with me, "Hey, do you know anybody who loves time travel movies?" The first words out of her mouth were "James Bachelor."
I contacted James, and we sat down, had dinner, talked about the project a little bit, and then he seemed like a good fit. So we started writing it the next weekend, and he is a fantastic first writer, and me, coming from editorial, I'm very good at amending, editing, and creating after a first pass. So it was a good relationship there, being able to have someone who's willing to take a swing on things. The conversations that followed from there, being able to write it together, were a blast. We spent a lot of time together from 2016 to 2019.
BC: What makes Clara and Lewis perfect for their roles? How did the rest of the cast come together?
Björkman: So casting is an interesting thing. You have to go with someone who is going to give you the performance and value to the movie. When I met Clara, it was recently after seeing 'I Am Mother' on Netflix. I was like, "Oh my gosh, she is so talented!" The world just hasn't seen it yet. She needs to be in this film. When I met with her on Skype, we talked about her character, and I described my ideas for her. You could see it in her eyes that she was meant for this role. There were like there were thousands of sparks that were flying in her eyes. Everything was triggering. I think that's also very important is when someone wants to be and understands the character.
The same goes with Lewis. We were seated in a coffeehouse for like three hours, just chit-chatting about the character. He was taking notes, and it was such a fun chat. We talked about past relationships and other things. It's interesting because you kind of get to know somebody. That informs you on how they might be able to play this character. I think a lot of ourselves get put into characters when we're acting. It's important to find the right person for the role, someone who understands the characters, who works with everybody that we cast like Lyrica [Okano], Luke [Lenza], Danny [Glover], Matt Walsh, Christina Chang. They all understood what their characters were.
BC: What was the inspiration behind exploring the time travel aspects of the film?
Björkman: 'Back to the Future' is a huge inspiration for the time travel logic. I think that when you know, your demographic has most likely also seen 'Back to the Future.' There's no reason to try to create any other type of time travel logic. They had this alternate timeline that keeps getting amended, and you keep going down and down. Then eventually, to undo all of that, you have to go back to the beginning. Knowing that audience members would try to poke holes in it on the Internet, we also drew inspiration from 'About Time,' which had sound logic, but there were some cracks within time travel but filled them with a good emotional story. We knew that we had to do our due diligence to ensure that our emotions in our movie were equally good.
Press Play comes to theaters, digital, and on-demand on June 24th. You can check out our interview with Rugaard here.