Jumanji: Welcome to the Jungle has a sequel coming out this December, which is kind of funny because that film is, for all intents, a sequel to the original 1995 Jumanji film with Robin Williams.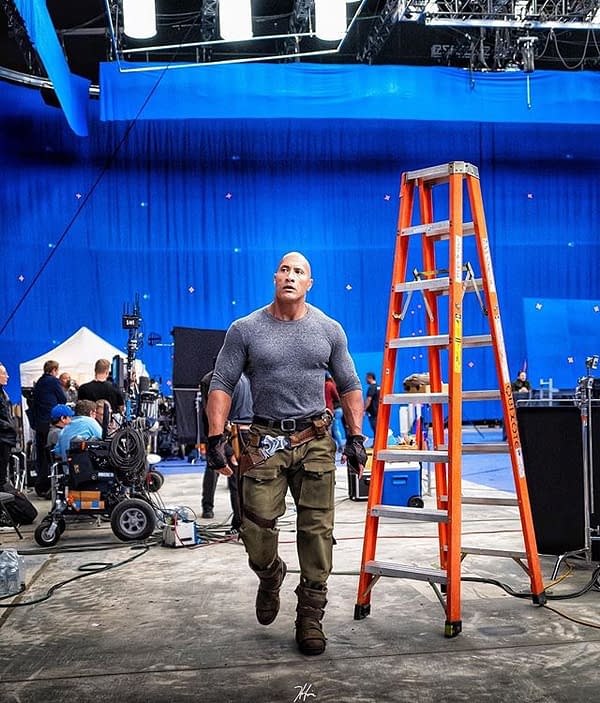 The cast of the new (as yet untitled) Jumanji film took to social media to share the news.
Here's Dwayne "The Rock" Johnson, sharing director Jake Kasdan's speach to the crew on his Instagram page:
What a 2 year journey to get to this point of completion. Thank you to our brilliant & hard working crew & filmmakers. And as always, to the ones who all this is done for – our audience – hope you enjoy. Cheers and I'll see ya down the road
The Rock then went on to take a gentle jab at co-star Kevin Hart's height:
I'm holding my hand up high so @kevinhart4real can't reach to hi-five 😈👋🏾 it.
That's an official wrap on our sequel and so much fun building out our JUMANJI UNIVERSE
That's a wrap on our incredible @jumanjimovie sequel! Huge thanks to our entire cast & crew lead by these unbelievable actors. @TheRock @KevinHart4real @jackblack & @karengillan. Can't wait for you guys to see what we made! #Jumanji @SevenBucksProd @DanyGarciaCo @SonyPictures pic.twitter.com/Ec9BNnWpLX

— Hiram Garcia (@hhgarcia41) May 13, 2019
That's a wrap on our @JumanjiMovie sequel!! From tropical jungles, to ice capped mountains, to the barren desert, a new adventure is coming to theaters THIS CHRISTMAS and we can't wait to share it with you.@TheRock @HhGarcia41@SevenBucksProd @SonyPictures#Producer pic.twitter.com/WNRCLQmBV4

— Dany Garcia (@DanyGarciaCo) May 13, 2019
The new Jumanji movie will be released on December 13th, 2019, and brings back the second sequel's cast of Johnson, Karen Gillan, Kevin Hart, and Jack Black. Colin Hanks and Nick Jonas will appear in some capacity for the sequel, alongside new cast members Awkwafina, Danny DeVito, and Danny Glover. What parts those characters play has not yet been announced.
Director Jake Kasdan already has a number of fun movies under his hat, with Orange County, Bad Teacher, and Walk Hard: The Dewey Cox Story filling out his resume before he brought $962 million home to Sony from theaters around the world with Jumanji: Welcome to the Jungle in 2017.
Hopefully, with the film due out in theaters in only 7 months, we'll see a trailer soon. If only there were some major motion picture swinging in to theaters from Sony any time soon…
Jumanji 3 is set to hit theaters on December 13th 2019.
Enjoyed this article? Share it!