[Review] 'Bohemian Rhapsody': Squeaky Clean and Disingenuous
Bohemian Rhapsody was very, very long, but at the same time, felt like it was missing so much. We could speak at length about >this< writer's personal disappointment with the film, but judging something on what it could have been vs what it is maybe isn't so fair.
Yes, Rami Maleck is good as Freddie Mercury. Yes, Gwilym Lee is perfect as Brian May (although maybe too likable?), Joseph Mazello as John Deacon and Ben Hardy as Roger Taylor were pretty perfect. There is a measure of adorable to the brotherhood of the band, that perhaps didn't serve the reality, but serves this movie narrative.
Lucy Boynton really did shine as much as she could as Mercury's long-time lady companion Mary Austen. This is primarily where my unhappiness with the film comes in- the portrayal of Freddie fighting with his true sexuality during the first act seemed disingenuous. Anytime a film seeks to tell a story with this many folds to it, painting the 'safe' picture instead, I get a little peeved.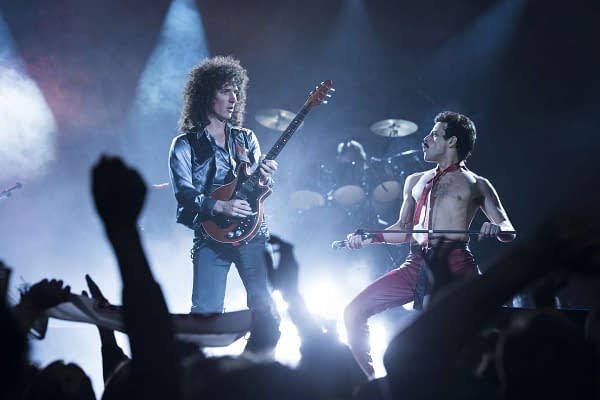 This is when I would start yelling about what a terrible choice Bryan Singer was to direct this film, about what a shitty script he and Brian May okayed, and how his ultimate firing by FOX was too little too late to save a picture that could have been epic.
That's not to say the final 20 minutes of the resulting Bohemian Rhapsody isn't one of the most satisfying concerts put to film in several years, because it is. But in a year when A Star Is Born exists, the dramatic elements of the picture fall flat. And, we know how Live Aid's concert went for Freddie and the boys.
Why not a film about Bob Geldof, with actor Dermot Murphy (who plays the promoter and activist in this film) and the bottom-to-top of the concert? THAT would be awesome. I will also admit when Murphy showed up in the film, I exclaimed out loud, "Holy crap, he looks JUST like Bob!"
SCORE: 3 out of 5, viewed in Dolby Cinema with AMAZING sound, would probably see again the same way.
THE GOOD:
The audio mix is pretty stellar, as should be expected in a production where music is this important. There was even a person in my screening who continued to yell out that it was "too loud", and if that's not a good indication of the concert-like quality of the resulting aural experience, I don't know what is.
THE BAD:
Bryan Singer's fingerprints are all over the film. So much of the film was completed by the time of his firing, that he still maintains full directorial credit, and Dexter Fletcher (who completed the film for FOX) isn't mentioned at all in the credits. Singer is not a good director, he's just not. He was not the right choice for this film, and I weep for the version we could have had without his influence. There, I made it all the way to the end of this without mentioning Sacha Baron Cohen, who originally was going to star as Mercury, alongside Lady Gaga as Mary, directed by Stephen Frears for SONY pictures. THAT's the film we deserved.
Just this week, an interview with Frears has surfaced where he details some additional factoids as to why it DIDN'T get made (which you can read here).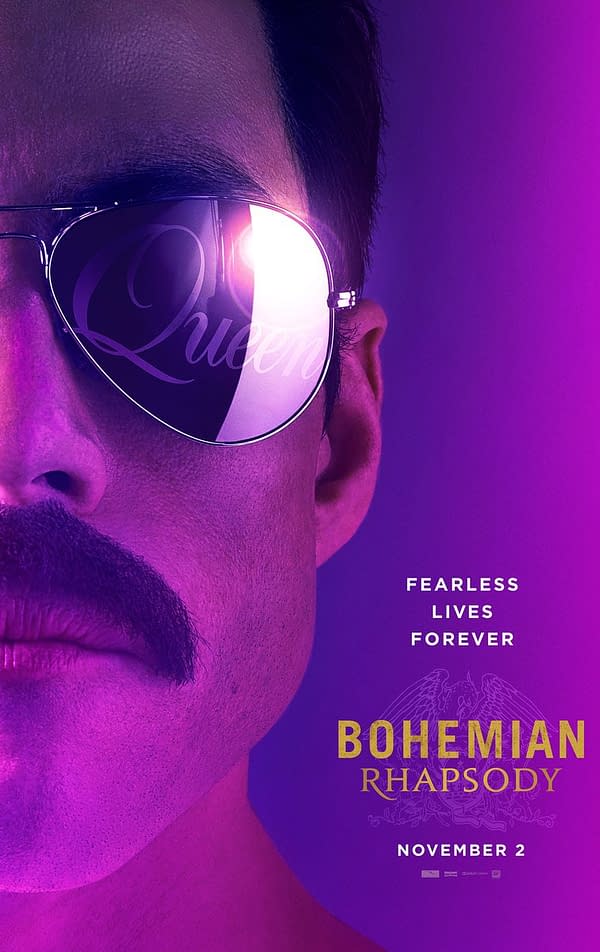 Bohemian Rhapsody opens in theaters on Friday November 2nd, 2018. Pick up the soundtrack if you have the chance.