The Road To Riverdale: A Look Back At Archie On TV.
After 75 years of waiting, Archie is finally coming to the small screen. For the past few years fans have been teased with the idea that maybe Archie would get his own zombie movie (based on Afterlife With Archie), which turned into a time travel movie (Jughead's Time Police?) which eventually got us to Riverdale. Initial fan reaction has been mixed, but with the latest trailer on the CW has more people curious than nervous. But this isn't Archie's first attempt at a live action television show. Starting in 1964, there was an unused live action Archie pilot, staring John Simpson as America's favorite red head and Roland Winters as Mr. Wetherbee. The pilot centers around an upcoming school dance, and per usual Archie agrees to take both Betty and Veronica. It's a cute episode, and it's a shame it never got picked up. The pilot can be found on YouTube, and has been included in some un aired TV pilot DVDs in the past. Around the late 1970's, ABC also dipped its toe into an Archie live action special. It was advertised as the "Archie Special" and was touted as a comedy show. Footage of this show is hard to come by, but fan accounts remember it as being entertaining, but not great.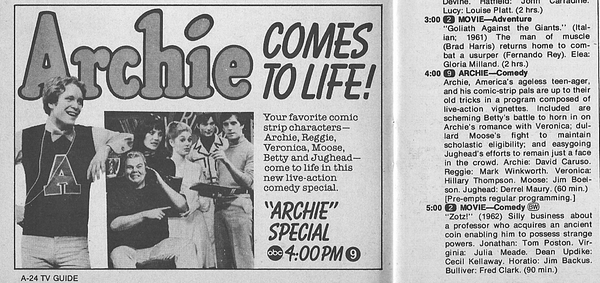 Finally in Archie: To Riverdale and Back Again (or Return to Riverdale) we got a somewhat enjoyable made for TV movie in 1990. The movie was about Archie and the gang returning to Riverdale for their 15 year high school reunion. The movie was actually a pilot for a hopeful TV show, which obviously never happened. The movie was unique though since it gave a glimpse of what the characters would be like after high school. Archie is a lawyer, Betty became a teacher, Veronica is still rich and doing whatever she wants, and Jughead is a psychiatrist, with a teenage
son of his own. The movie can be easily found on YouTube and VHS, but has yet to see a DVD release. It also kind of answered the "who will Archie pick" question that lingered for years. In this version, he's engaged to a woman named Pam. However when he sees Betty and Veronica again, emotions come flooding back. I would have liked to have seen this show take off, but oh well.
Interestingly enough, Archie's other properties have done slightly better in the live action world. Sabrina The Teenage Witch was a huge hit for Archie and ABC starting in 1996 (then WB for the last three seasons). In 2001, Josie and the Pussycats got its own film adaptation, and while not a huge box office hit, I personally enjoyed it a great deal.
Riverdale looks promising. With Roberto Aguirre-Sacasa (Afterlife With Archie) on as a writer, we'll get a show that understands its characters. Riverdale premiers January 26th at 9pm on the CW.