Robert Kirkman And Other Walking Dead Producers Sue AMC For Breach Of Contract
Just days after Robert Kirkman's Skybound Entertainment quit its first look deal with AMC and moved to Amazon Prime, the Walking Dead creator, along with producers Glen Mazzara, David Alpert, and Gale Anne Hurd have filed a lawsuit against AMC for breach of contract.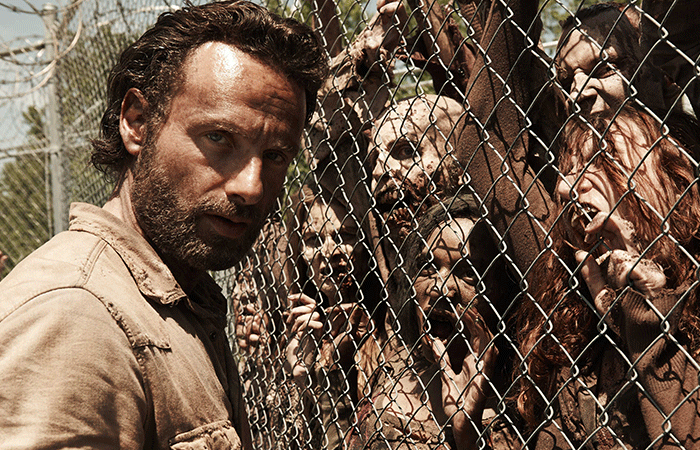 Similarly to the long-running lawsuit against AMC by original showrunner Frank Darabont, the new lawsuit accuses AMC of "self-dealing," claiming that they "exploited their vertically-integrated corporate structure to combine both the production and the exhibition of TWD, which allowed AMC to keep the lion's share of the series' enormous profits for itself and not share it with the Plaintiffs, as required by their contracts."
The lawsuit, first reported by THR, alleges that AMC has received record profits from The Walking Dead, and "has not met its contractual obligations to share that success." The lawsuit goes on to explain the "self-dealing" concept:
While the AMC Entities have breached their agreements with Plaintiffs in various ways, the most significant harm results from their self-dealing in related-party transactions. Specifically, the measure of 'profit," for the purposes of profit participation in a television series, is typically realized at the production company level – if the production company makes a profit, it has to share it with the participants. In contrast, the network's profit from exhibition typically is not shared with the participants – the conglomerate can keep all those profits for itself. As a consequence, when the production company and the network are part of the same conglomerate, as AMC Studios and AMC Network are here, there is a powerful financial incentive to keep the lion's share of the profit at the network level and not pay a fair-market-value license fee to the production company – thereby depriving profit participants, like Plaintiffs, of their fair share of the series' profits.

For example, under the terms of AMC Entities' TWD agreement with Plaintiff Robert Kirkman, AMC Studios was obligated to obtain license fees at fair market value from the AMC Network for licensing its right to exhibit TWD. Nonetheless, AMC Studios charged AMC Network zero for giving those rights. Instead, it "imputed" – and in this case also unilaterally declared – a wholly-inadequate, imputed license fee ("ILF") on Plaintiffs' TWD MAGR statements that was never agreed to by Kirkman or any of the other Plaintiffs.

There can be no question that, if AMC Studio and AMC Network were not part of the same conglomerate, the story would be very different. As this case will show, if AMC Studios had been paid a fair market license fee (as required under Kirkman's TWD Agreement), or had it properly imputed one (as required under the other Plaintiffs' TWD Agreements), TWD would have commanded a license fee far above the costs of production of the series over the long term, and certainly much above the mere 68% of production costs (including extra payments known as breakage) AMC Studios has given Plaintiffs credit for to date on their TWD MAGR statements through TWD's seventh season. As a result, Kirkman, whose comic books were the basis for TWD, and the other Plaintiffs, who helped to bring his vision to television, have been denied their contractual rights to participate fairly with the AMC Entities in TWD's success.
In addition to that, the lawsuit alleges that AMC "used various other means to deprive Plaintiff of their fair share of TWD's profits. For example, although the agreements between AMC Studios and Plaintiffs provided that there would be no deductions for the payments AMC Studio paid to other TWD profit participants when determining each participant's share of TWD's profits, AMC Studio has nonetheless taken those improper deductions." It also says that " based on the success of TWD, before FTWD even aired its first episode, an unrelated third party offered to buy FTWD's international rights for an amount that would have immediately put (and kept) FTWD in profits. But the AMC Entities turned this offer down so that they could do a related-party deal for much less than the unrelated party offered, again keeping the profits at the conglomerate level and not passing them through to AMC Studios and the participants. Similarly, for TTD, which is properly viewed as part of TWD or FTWD, Plaintiffs are informed and believe that AMC Studios charges AMC Network no license fee and does not intend to credit any revenue for it on Plaintiffs' T.WD and FTWD profit statements, even though AMC makes substantial profits on TTD."
You can read the entire 62 page complaint here. We'll keep you posted on this breaking story.