Robert Nairne on Creature-ing in Jack in the Box, Star Wars
This episode Jason talks to Robert Nairne, who stars in the new film The Jack in the Box on VOD Digital and DVD this month. The Jack in the Box is an old-fashioned creature feature perfect for spring days in quarantine. As described by the producer:
When a museum is donated a vintage Jack-In-The-Box, it's not long before staff member Casey starts to think that the creepy clown doll inside has a life of its own. As he discovers his colleagues are dying, one by one, Casey realizes it's up to him to find a way to end the nightmare or become another victim of the box's curse. Jack in The Box is a heart stopping horror that will fuel your fear of clowns.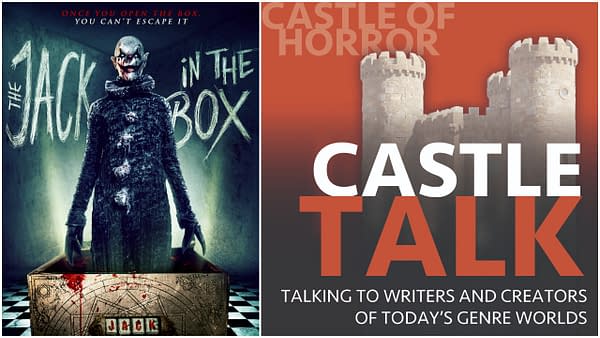 Nairne joined Castle Talk from his home in the UK, where he also is under quarantine. Nairne is a remarkably prolific creature actor with who has appeared in the five most recent Star Wars films, as well as playing Hondo Ohnaka on screens throughout the Millennium Falcon experience at Star Wars: Galaxy's Edge in Disneyland and Disney World.
Said his producers:
He has also played key creature roles in Penny Dreadful, Red Dwarf XI, The Secret of Marrowbone, Howl, and Boys From County Hell. Non-creature credits on screen include The Crown, Biopunk, and Keratin; and on stage, the world stage premiere of From Dusk Till Dawn with Secret Theatre Projects in London, Hong Kong & Singapore; Hammer Films' first real-time immersive theatrical experience, The Soulless Ones; and various productions with Secret Cinema including Star Wars: The Empire Strikes Back (playing Chewbacca) and Stranger Things (The Demogorgon).
Nairne chatted about going from his time as a biochemistry major at Oxford to the strange, small community of creature actors. He also talks about the challenges of playing a creature, from hours on the makeup chair to hurling himself off platforms, and getting to be the focal point of every actor on the stage.
The Jack in the Box premieres May 2020 on VOD Digital and DVD.
Listen here:
Listen on YouTube:
Check out the Trailer:
Jason Henderson is the host of the Castle of Horror and Castle Talk Podcasts, the editor of the Castle of Horror Anthology series (including this summer's Volume 3: Summer Lovin', and the author of Quest for the Nautilus: Young Captain Nemo from Macmillan Children's Books. His new horror novel, under the pseudonym Peyton Douglas, The Book Man, debuts on June 2.