Move over, Golden Lovers! Kenny Omega and Kota Ibushi have got nothing on Roman Reigns and Brock Lesnar!
With less than two weeks to go before their Universal Championship match at WrestleMania, Roman Reigns appeared on the Sam Roberts Wrestling Podcast to talk about what fans can expect from the bout. And if you believe Roman Reigns, what you can expect is banging. Yasssss King!
"The match is the match," Reigns said on the podcast, as transcribed by Wrestling Inc. "It's one thing when you speak about it with four weeks, five weeks out, but if you saw what we did three years ago, you will have a general idea of how we go at it. I don't see us giving you apples and changing the apples to give you a different fruit. We will do what works for us; we are both physical and both brawlers, and both not afraid to bang."
Clearly, this is going to be a lot different than their match at WrestleMania 31, which was physical but contained no banging whatsoever. At least, we're pretty sure we would have remembered it if it did.
"So, hopefully with the physicality, and hopefully a great story, which is important to grasp that, to completely immerse themselves in it and get lost it in," said Reigns. "I think what people will be able to take from it of whether or not someone is knocked out, and stretch the imagination and make people guess, whether it is professional wrestling or fighting. I think if we are blurring the lines, we are doing our job"
For most fans, the upcoming match has seemed predictable, with both assuming that Reigns will defeat Lesnar to be crowned Universal Champion as the crowd boos. But one thing that could change that inevitable reaction, without a doubt, would be if Reigns and Lesnar were to just start banging, right there in the middle of the ring. No one could call that predictable, and it would be immensely more satisfying for everyone involved.
Of course, it would probably contradict WWE's PG image to feature banging live on PPV, so it's possible that this is just a swerve to get people to tune in only for WWE to deliver a traditional wrestling match without any banging. However, a few years ago, after the match between Kazuchika Okada and Kenny Omega at Wrestle Kingdom 11, WWE was rumored to be jealous of NJPW ending their biggest show of the year with a great wrestling match and considering doing the same for one of their own shows. It's totally possible that the same thing has happened here, with WWE inspired by the Golden Lovers storyline and looking to capture some of that same magic with their own performers.
We'll have to tune into the WWE Network on Sunday, April 8 to find out what happens.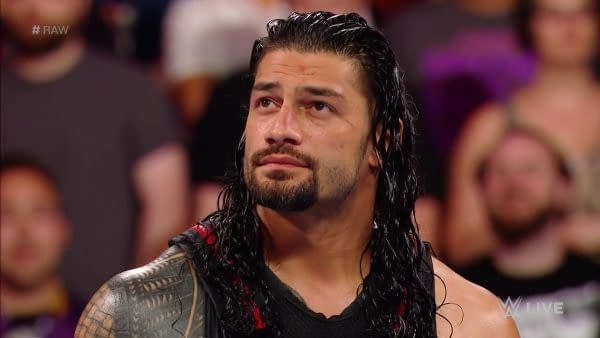 Enjoyed this article? Share it!