Rupert Wyatt Says 'Fantastic Four' Failure is Why 'Gambit' Hasn't Happened
Director Rupert Wyatt isn't mixing words as to why he thinks the long-gestating live-action Gambit solo film hasn't happened, and who/what is to blame for it. In a recent chat with ComicsBeat, Wyatt commented that due to Josh Trank's Fantastic Four film (pretty much) failing, the budget for Gambit starring Channing Tatum was "slashed", about 10 days from the beginning of production. That type of change would no doubt cause any project to fall apart, understandably.
"I was very close with Channing Tatum and his producing partner Reid Carolin, and I was on the script with him and Josh Zetumer as a writer. We were close, I believe 10 weeks away. It simply came down to budget. There was not enough. You know all too well about the politics of the business. Fantastic Four had been released by Fox a month before and had not gone well for them, so our budget was slashed quite considerably. The inevitable, from my perspective was, 'Well then we need to rewrite the script to tailor to our budget,' but we were too close to a start date for Fox to really want to go there, so unfortunately, it just didn't work out."
Speaking of Trank's Fantastic Four-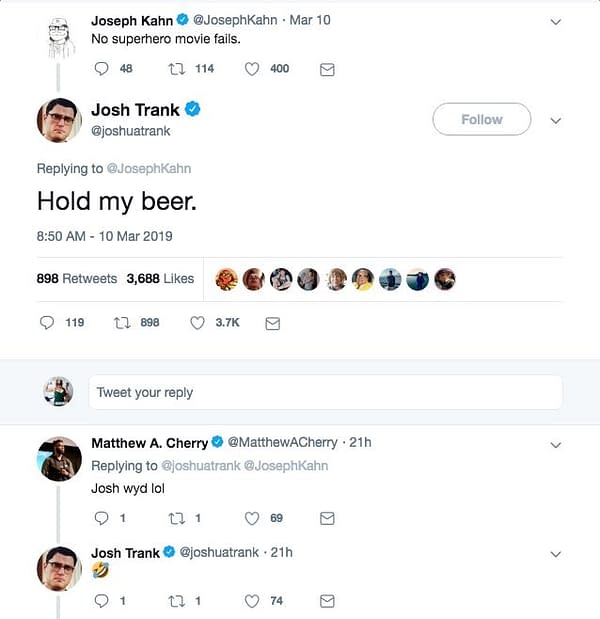 But what about the film eventually happening, mostly due to Tatum's unflagging loyalty and drive to get the project off the ground? Wyatt said:
"All I know is Channing had a really, really wonderful idea for what that film could and should be. I know he and Reid are still plugging away at it, so I hope in the new Disney era, that then they get to make it."
Recent rumors and rumblings suggest the film is now shelved indefinitely, at least until the looming Disney / FOX merger completes.
We'll let you know what we hear.